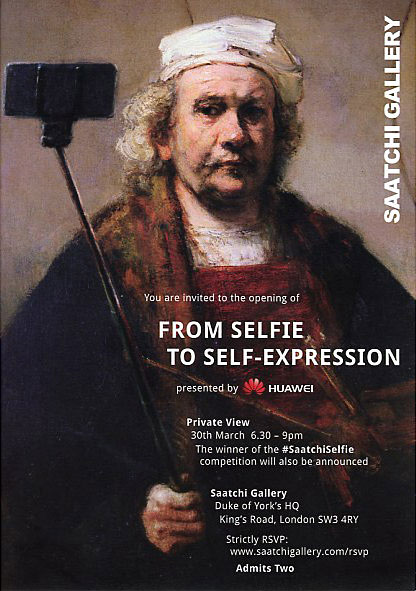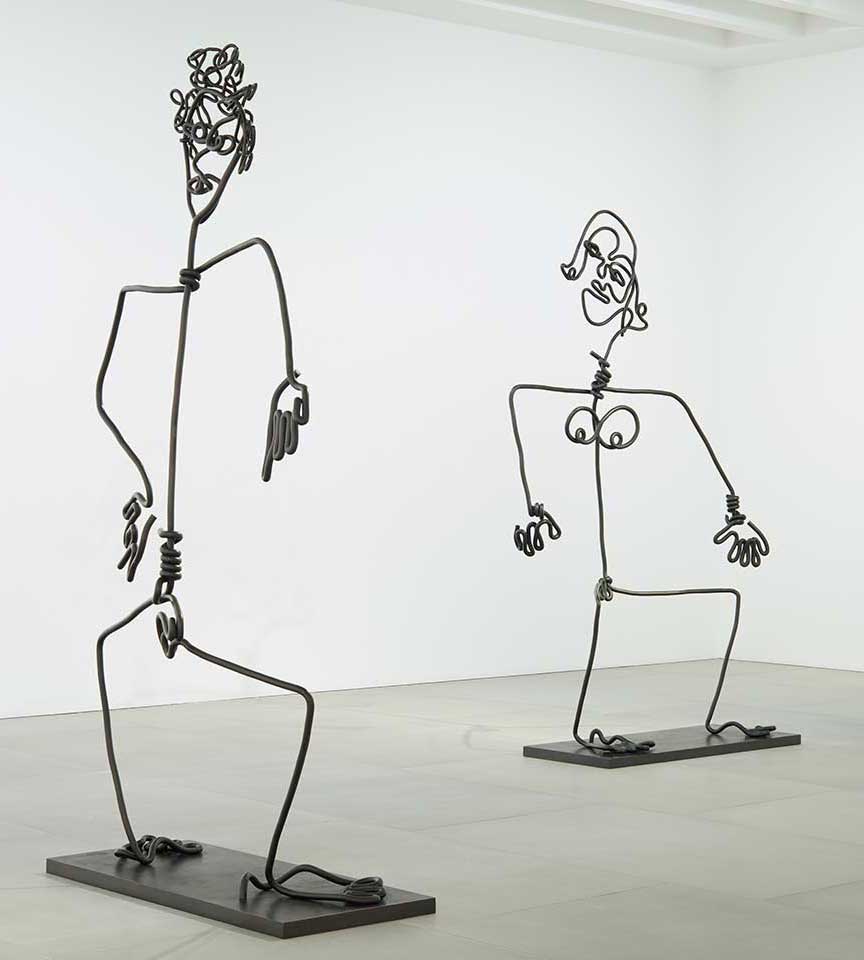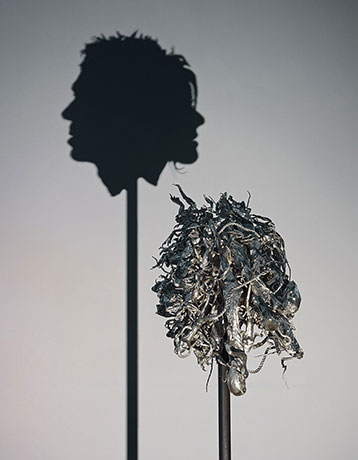 From Selfie to Self-Expression
Saatchi Gallery
Duke of York's HQ, King's Road, London, SW3 4RY
31 March – 30 May 2017, 10am–6pm
7 days a week, last entry 5:30pm
From Selfie to Self-Expression highlights the emerging role of the mobile phone as an artistic medium for self-expression. Presented by Saatchi Gallery and Huawei, this will be the world's first exhibition exploring the history of the selfie from the old masters to the present day, and will celebrate the truly creative potential of a form of expression often derided for its inanity. Works by Tim Noble and Sue Webster at this exhibition are The Simple Ones, 2017 and The Mastepiece, 2014.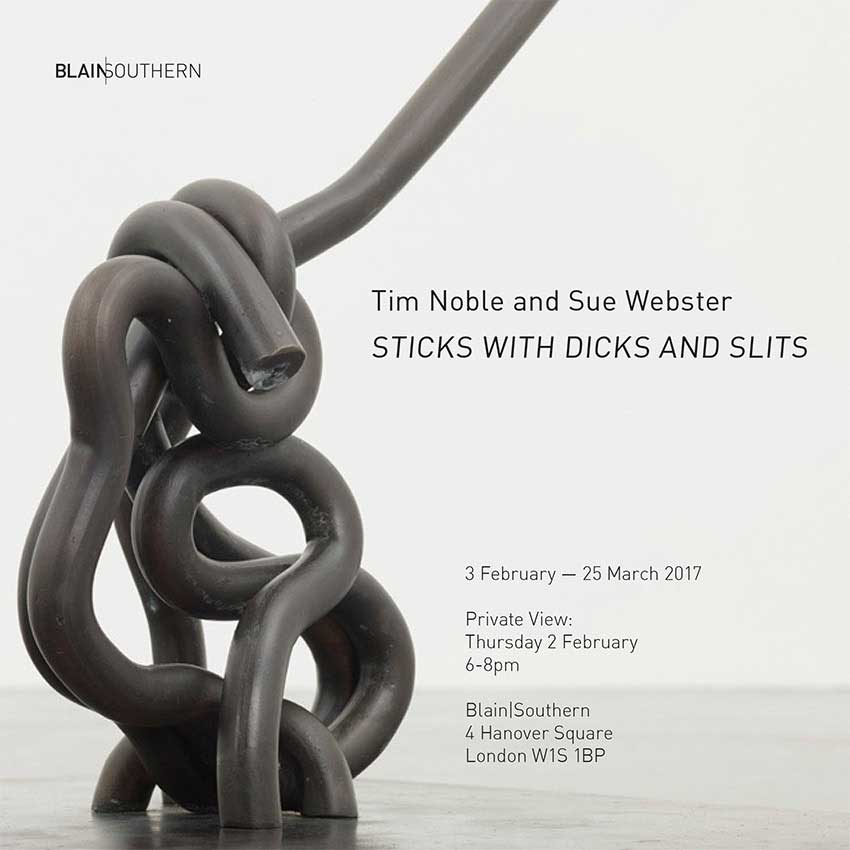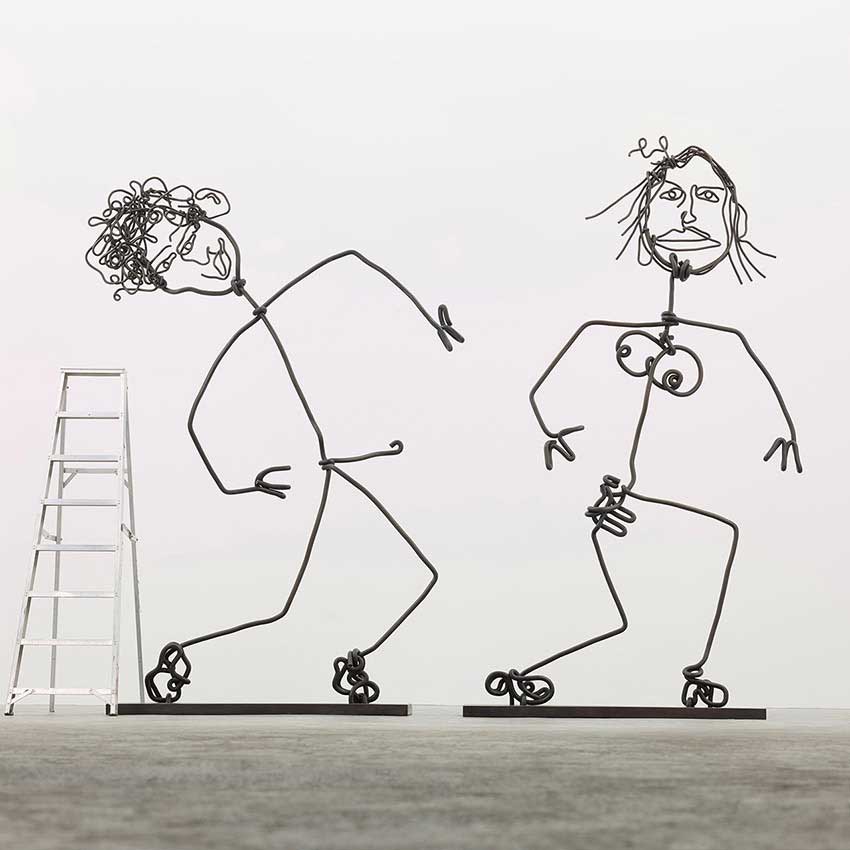 Sticks with Dicks and Slits
Blain|Southern
4 Hanover Square, London W1S 1BP, UK
3 February – 25 March 2017
Private View: 2 February 2017, 6–8pm


STICKS WITH DICKS AND SLITS, a new body of sculptural works, Tim Noble and Sue Webster present pairs of giant self-portraits, stickfigures sculpted in twisted bronze. Based on handmade maquettes made with electrical wire, the sculptures are an act of upscaling playful ephemera into physically domineering artworks with a permanency and scale that transcends human limitations.
The initial maquettes for this new body of work were created during a residency on the Caribbean island of St Bart's. This idyllic environment was initially challenging for these urbanites who found themselves stripped of their usual impetus. Struggling with this creative impasse, they began doodling with electrical wire, quickly and intuitively producing two intimate self-portraits.
Part of a great tradition of artists-as-art, their personal image and the dynamic between them is an integral part of their work. As with previous self-portraits, these new paired sculptures express the artistic personae of the duo.

One pair features nudes of Tim urinating and Sue lactating – engaging in basic bodily functions is a recurring motif for the artists. The artists employ their own naked forms as a way to make art with a rawness and truth, using their warts-and-all inseparable dual image as a tool to critique narcissistic obsession.

The size, medium and aesthetic of their new sculptures are yet another bold development in a practice that Noble describes as 'consistently inconsistent.' Working at a scale that seems to contradict the materials, the artists achieve the sketchy, continuous effect of wire by employing the traditional technique of lost wax casting. The technique involves manipulating and casting rods of wax, before pouring molten metal into cavities to recreate the final sculpture in bronze. The resulting casts retain the spontaneity of the sculptor's hands, and remain humanised and true to the subject. The dimensional qualities vary between each pair yet they are united by a fluidity and lightness of gesture that is rare to see in large-scale sculpture.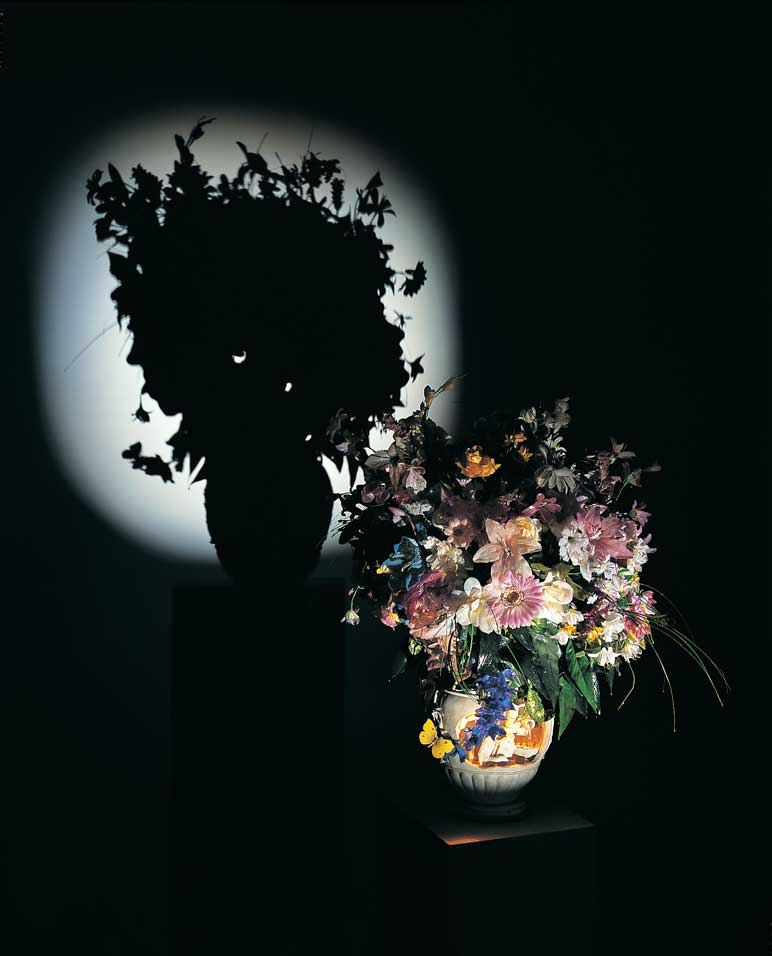 One and Other
Zabludowicz Collection
176 Prince of Wales Road, London NW5 3PT, UK
19 January – 26 February 2017
Preview: 17 January 2017, 6–9pm
One and Other explores the duality that emerges from the daily performing of a persona other than ourselves. The show constitutes a spatial experiment in which the concept of the stage is used as a metaphor to investigate this duality. A parallel is drawn between the dynamic of an actor and their performed role onstage and our relationship to our projected personas on social media platforms. From this starting point the exhibition questions, through a range of contemporary artworks of different mediums, the permanence of our identity, what influences it, the multiple shapes it takes and our relationship towards the other self.
One and Other is curated by students of the MA Curating courses at Chelsea College of Art & Sir John Cass College of Art at London Metropolitan University. The resulting exhibition has been selected from over 3000 Collection works and brings together some of the most significant artists in contemporary art. The participating curators are: Caterina Avataneo, Ryan Blakeley, Nadine Cordial Settele, Sofía Corrales Akerman, Gaia Giacomelli and Angela Pippo. The exhibition will be accompanied by a public programme of events, curator-led tours and family workshops.
Left: Tim Noble & Sue Webster. Ghastly Arrangements, 2001.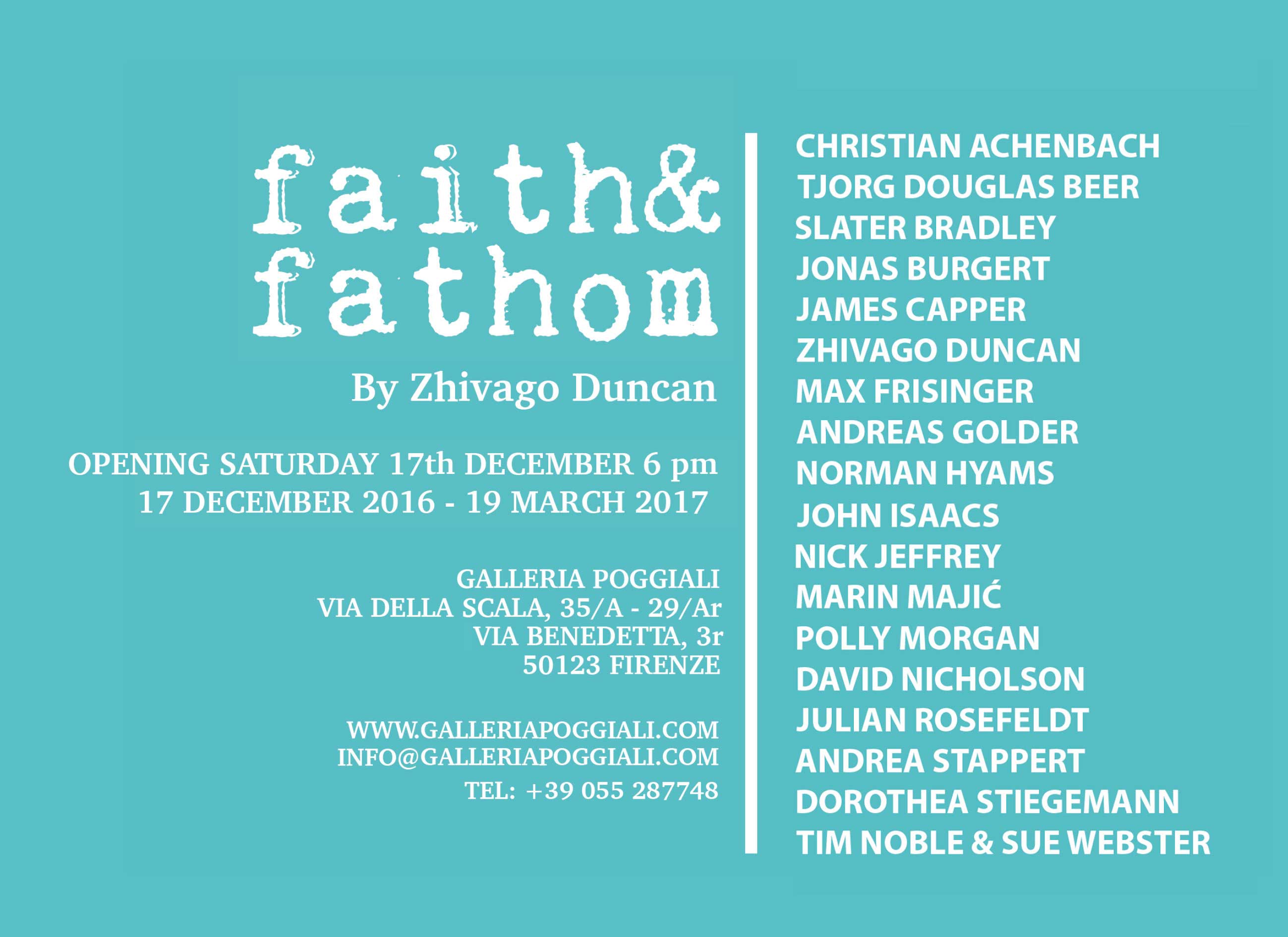 Faith & Fathom
Galleria Poggiali
Via Della Scala, 35/A – 29/Ar,
Via Benedetta, 3r
50123 Firenze
17 December 2016 – 19 March 2017
Opening: Saturday 17 December 2016 – 6.00 pm
Zhivago Duncan curates Faith & Fathom a new exhibition at Gallerie Poggiali showing the works of 18 artists including Tim Noble & Sue Webster's paintings from their blindfold series; Tiny But Tough (diptych) 2014 and The Itch (diptych) 2014.






Artistic Differences
ICA
The Mall, London SW1Y 5AH
29 June – 4 September 2016
Opening: 28 June 2016, 12:30–2:30pm
Coinciding with the ICA's Lower Gallery exhibition Judy Blame: Never Again (29 June – 4 September 2016), featuring designer Judy Blame's work since the 1980s, Artistic Differences brings together artists and designers that have been directly linked to Blame throughout his career, and those who have been influenced by his work and share his distinct artistic approach and style.
Participants include Charles Atlas, Dave Baby, Jake & Dinos Chapman, Malcolm Garrett, Derek Jarman, Barry Kamen, Jim Lambie, Mark Lebon, Linder, John Maybury, Jamie Reid, Peter Saville, Juergen Teller, Trojan, Nicola Tyson and Tim Noble & Sue Webster.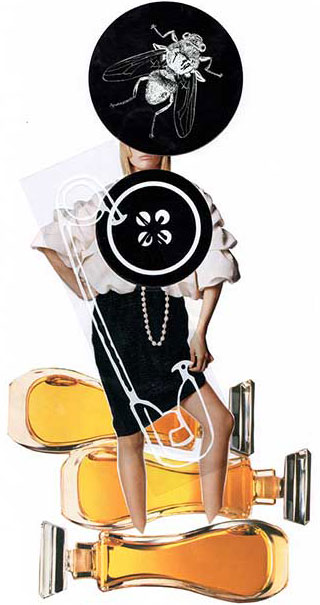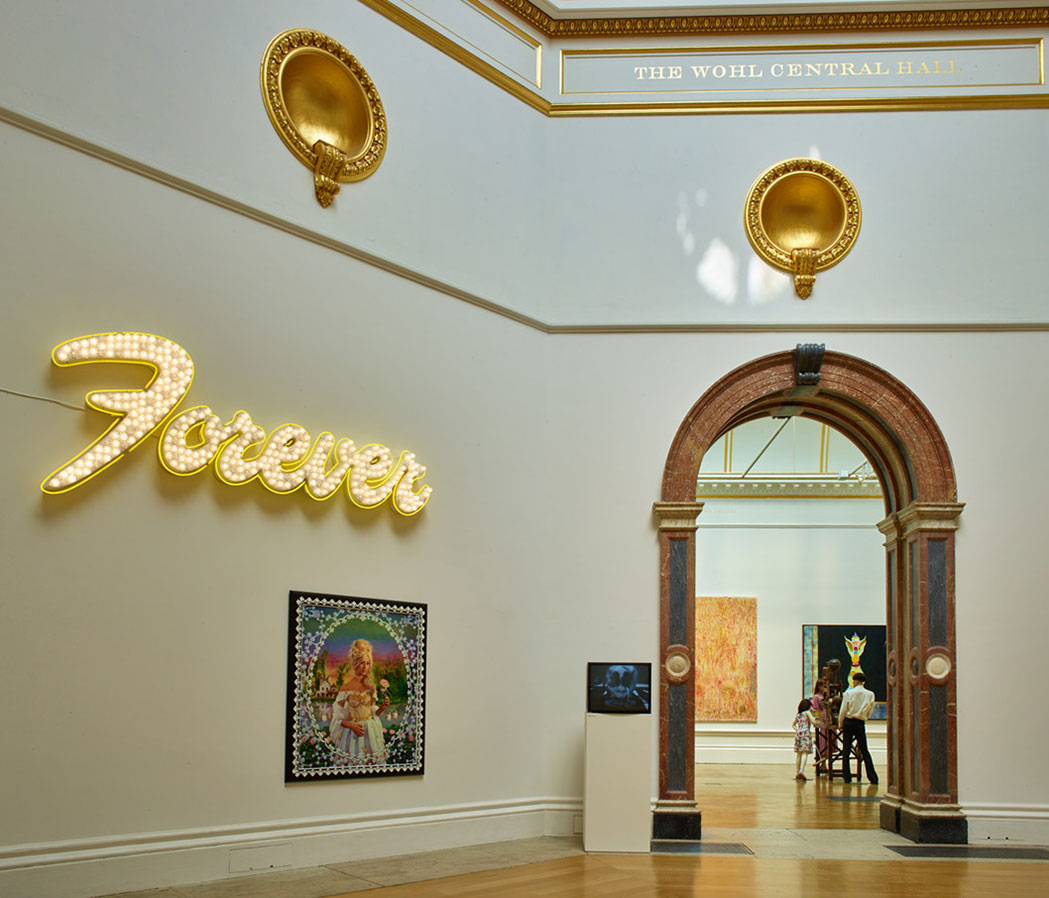 RA Summer Exhibition 2016
Royal Academy of Arts
Burlington House, Piccadilly, London W1J 0BD
13 June – 21 August 2016
Sunday – Thursday 10am–6pm. Friday & Saturday 10am–10pm
The Royal Academy of Arts Summer Exhibition 2016 will be coordinated by the leading British sculptor, Richard Wilson RA, one of Britain's most celebrated sculptors. He is internationally celebrated for his interventions in architectural space which draw heavily for their inspiration from the worlds of engineering and construction.
Tim Noble's and Sue Webster's light sculpture Forever (2015) is one of several works by celebrated artistic duos chosen to be part of this year's edition, as part of Wilson's campaign to bring artistic partnerships into the Royal Academy.
Featured in the BBC's documentary on the Royal Academy's Summer Exhibition, you can watch Tim Noble & Sue Webster discussing their practice and the how being part of a duo encourages the pursuit of ideas here.
Richard Wilson RA talks about his Summer Exhibition curated room here.






The Difference Between Sunrise and Sunset
Schloss Tüßling Projects
Marktplatz 1, 84577 Tüßling, Bavaria, Germany
9–12 June 2016
Schloss Tüßling Projects is proud to announce its first inaugural exhibition, featuring the work of 24 contemporary artists sited throughout the historic Schloss Tüßling castle.
Hosted by Stephanie Grafin Bruges-von Pfuel and curated by Berlin-based Philip Bollman, the exhibition will present a unique dialogue between the ancestral grandeur of the Schloss Tüßling and a diversity of intriguing and thought-provoking ideas by a group of exceptional artists ranging from young Berliners to venerable legends of the art world.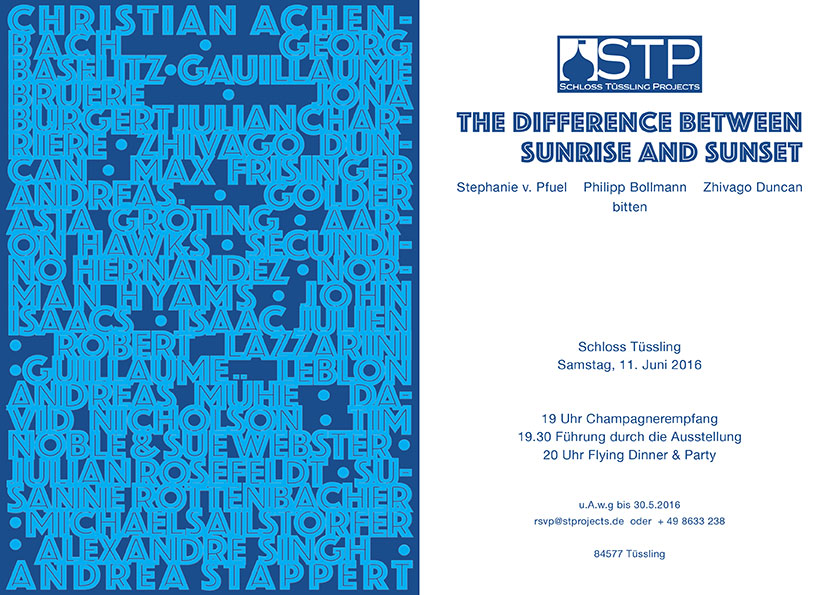 Artists with Liberty
Paul Stopler Gallery
Museum Street, London, WC1A 1LH
1–4 June 2016
Private View: 1 June 2016, 6:00–8:00pm
A collaboration between Rachel Howard and Liberty to raise funds and awareness to oppose any attempt to repeal the Human Rights Act, as outlined in the 2016 Queens Speech, with the Government's plans to scrap the Human Rights Act in favour of a weakened "British Bill of Rights".
The following artists have been invited to each create a limited edition print with the theme 'Liberty' to donate to the cause.
David Birkin, Jake and Dinos Chapman, Mat Collishaw, Ruth Ewan, Rachel Howard, Harland Miller, Bob and Roberta Smith, Mark Titchner, Mark Wallinger, Sue Webster.
The prints will be sold together at the exhibition, as an edition of 25 sets of 10 prints (one by each artist). The retail price being £4,500 plus VAT.
Artists with Liberty, 2016
Portfolio of limited edition prints (medium variable)
58.42 x 43.18 cm (23 x 17 in)
Edition of 25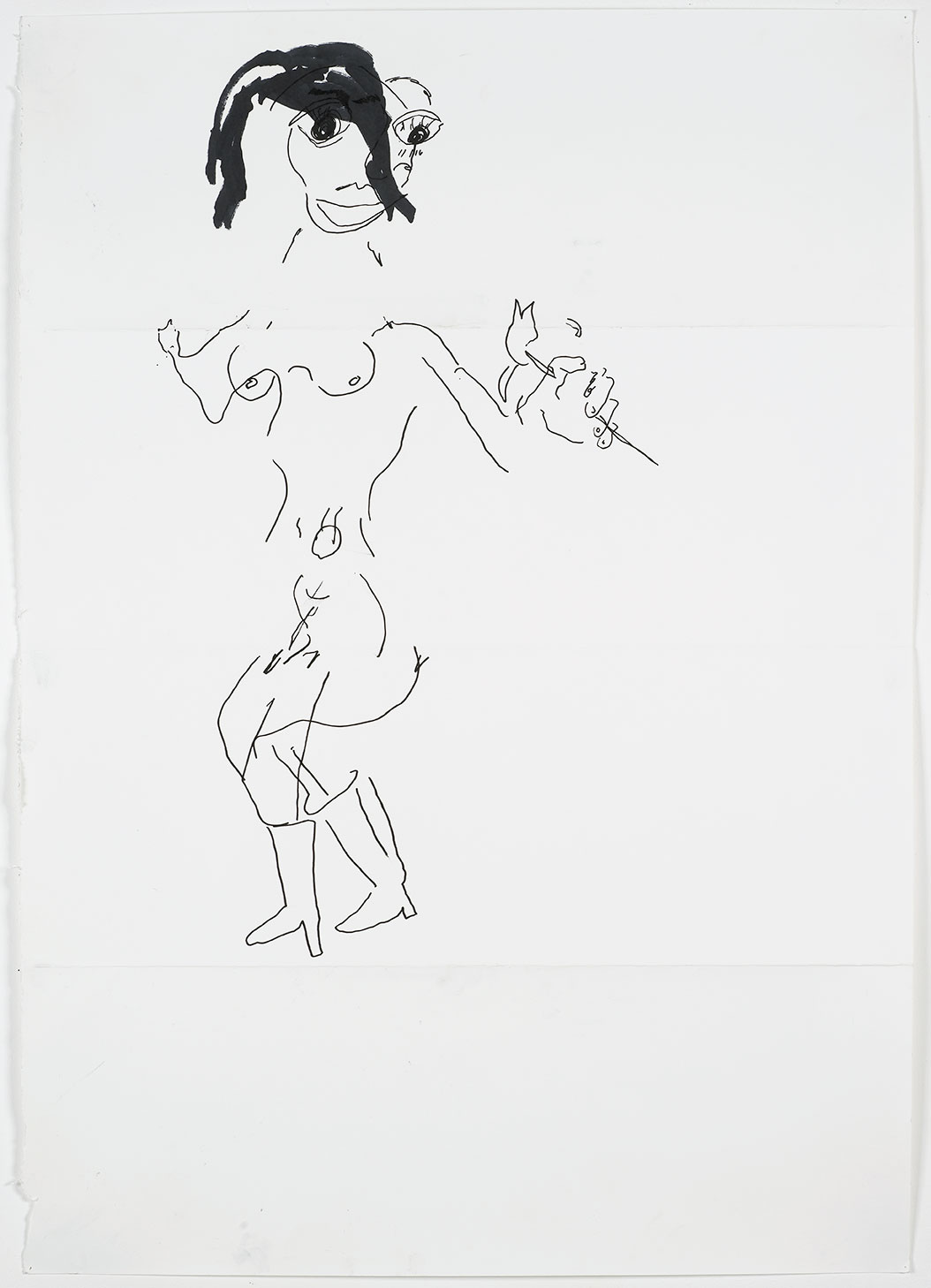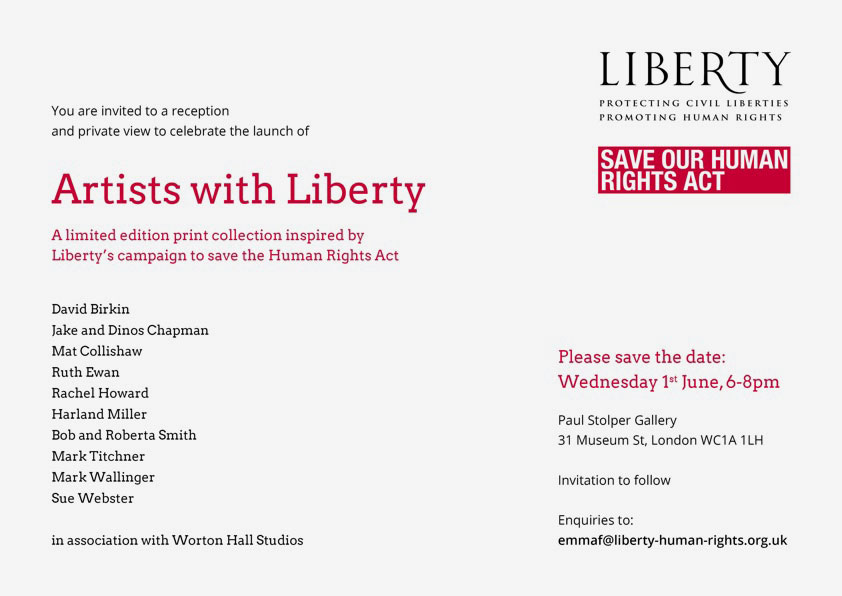 A Brush With Genius, 2016





Group Show–12 Solos
BLAIN|SOUTHERN Berlin
Potsdamer Straße 77–87
10785 Berlin
16 February – 16 April 2016
Opening times: Tues to Sat 11am–6pm
Preview: 13 February 2016. 1pm–6pm
Blain|Southern Berlin announces a group show featuring artists who have exhibited at the gallery since its inauguration. Blain|Southern Berlin opened in 2011 with a site-specific installation created by celebrated British artists Tim Noble and Sue Webster. Other artists who have exhibited at the gallery include: Jonas Burgert, Lynn Chadwick, Francesco Clemente, Abdoulaye Konaté, Yinka Shonibare, MBE, Wim Wenders, Lawrence Weiner, Douglas Gordon, Jannis Kounellis, François Morellet and Nasan Tur.
The gallery represents an international roster of contemporary artists and has an exhibition programme that celebrates the breadth of contemporary art practice worldwide.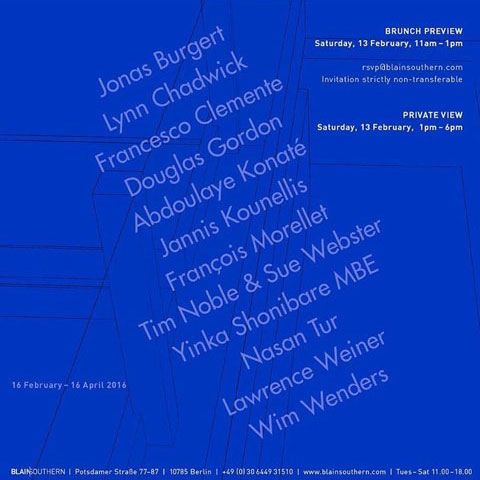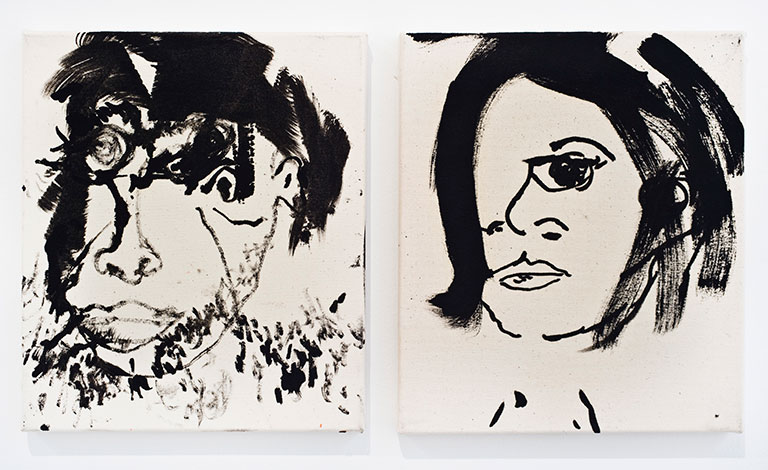 A Pair of Selfish Portraits, 2013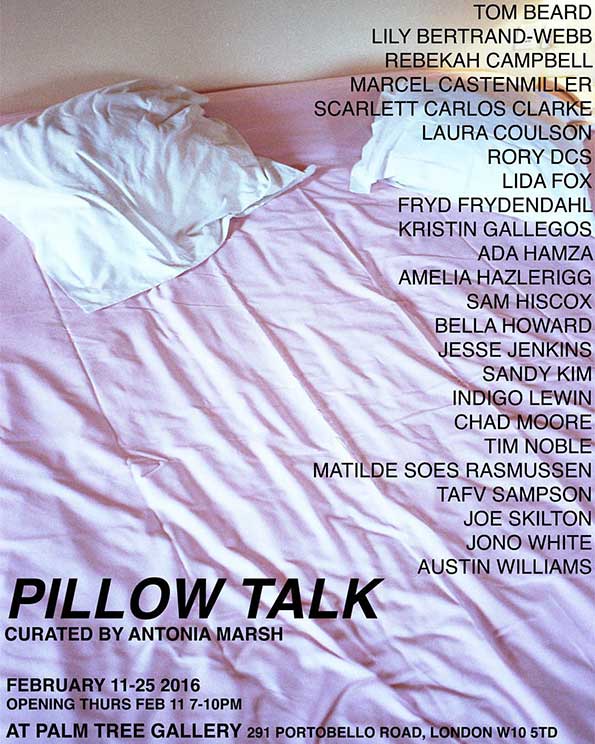 Pillow Talk
Palm Tree Gallery
291 Portobello Road, London W10 5TD
11–25 February 2016
Opening: 11 February 2016, 7–10pm
Pillow Talk is a group show with 24 artists, curated by Antonia Marsh,
showing new work by Tim Noble.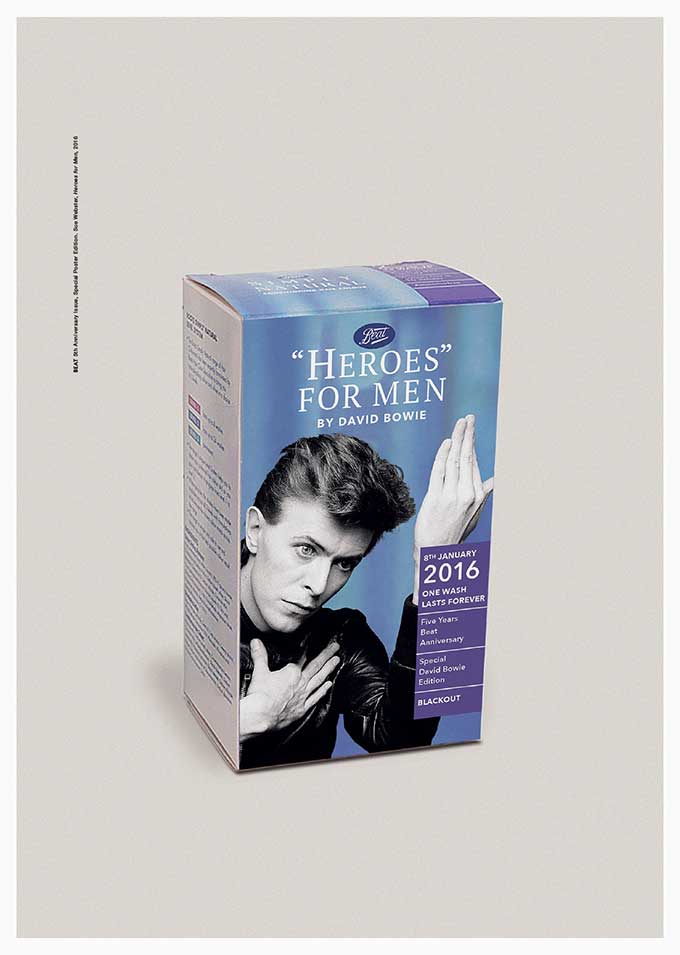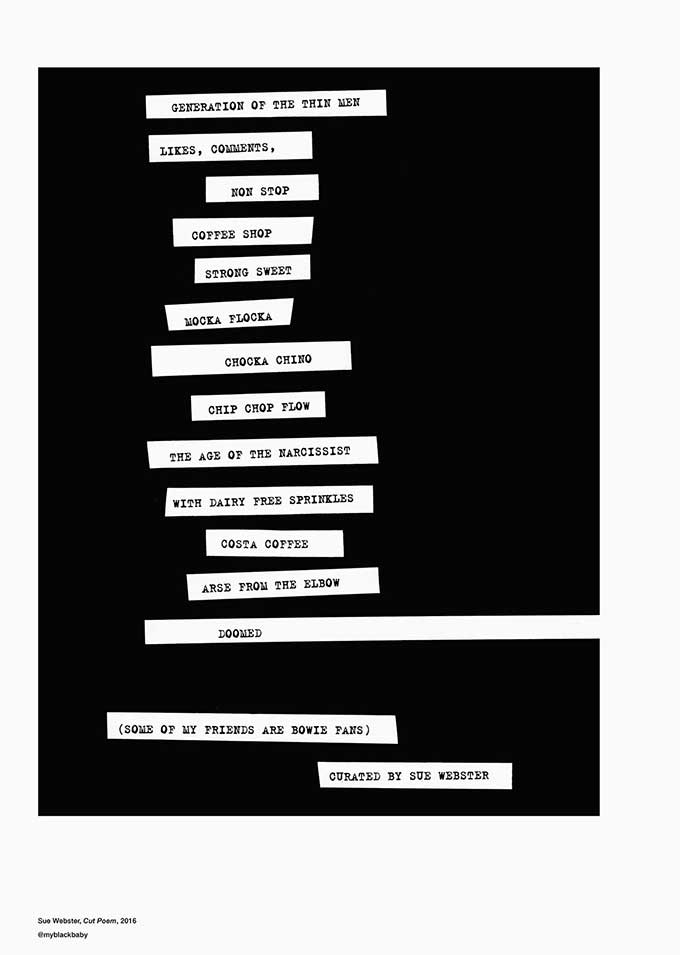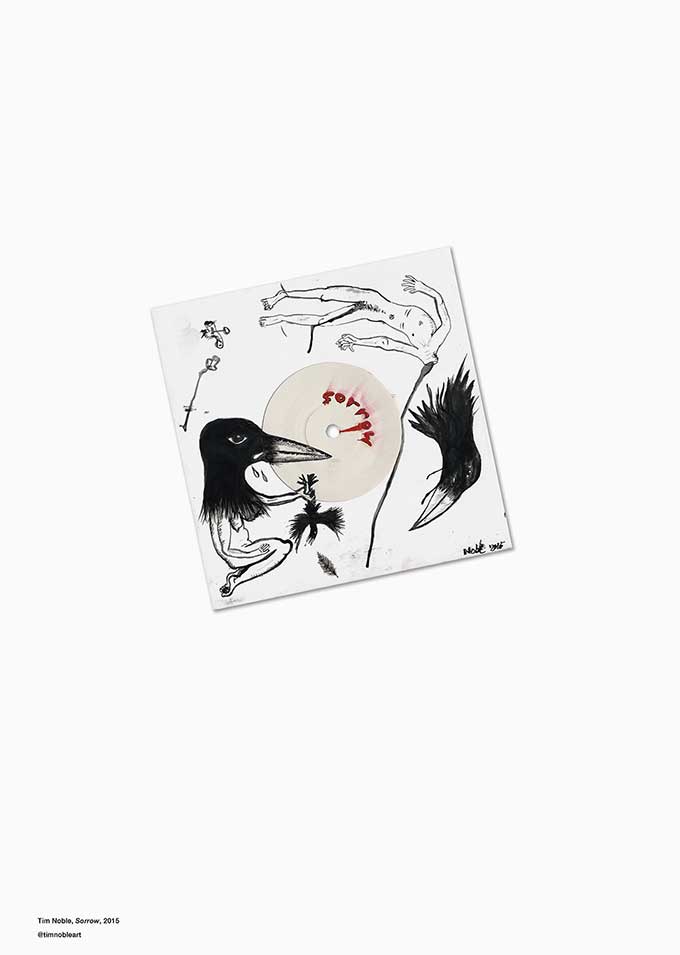 BEAT magazine
Published: 8 January, 2016
The BEAT magazine celebrates its fifth anniversary, with a special edition on the birthday of David Bowie and the release of his album Blackstar. Sue has created the cover and curated a selection of Bowie-related works by other artists, including Jeremy Deller, Tracey Emin, Kingsley Ifill, Scott King, Toby Mott and Tim Noble.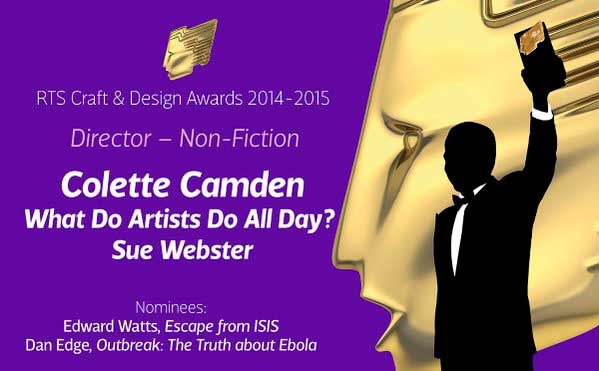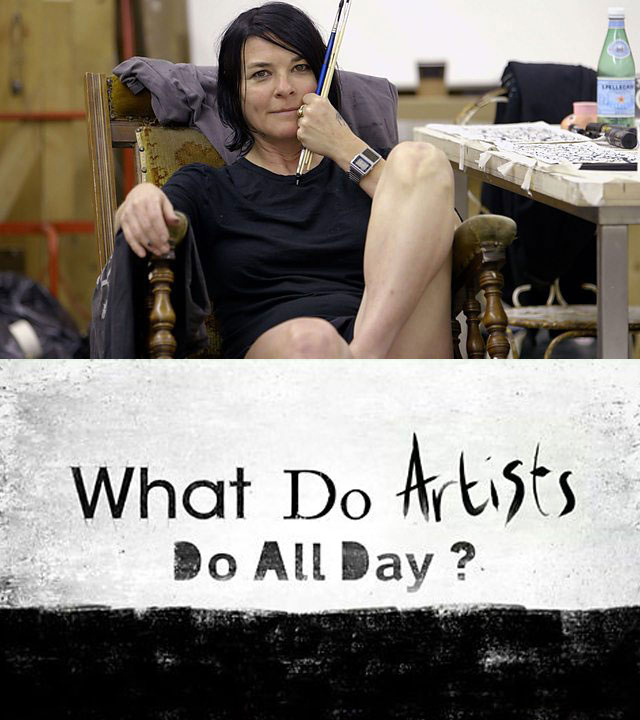 Royal Television Society–Craft & Design Awards 2014–2015
What Do Artists Do All Day?–Sue Webster
Director – Non-Fiction: Colette Camden
Production Company: BBC Arts
Broadcaster: BBC Four
"Beautifully shot and constructed as well as a great example of wonderful storytelling."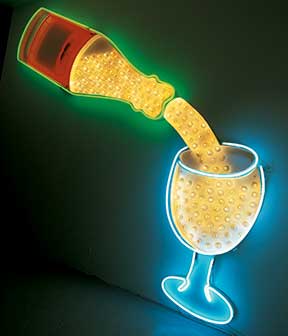 The Funnies
MOT International
Avenue Louise, Brussels 1000, Belgium
20 November 2015 – 30 January 2016
Private View: 19 November 2015, 6–9pm
Taking its title from the comic section of twentieth century American newspapers known as 'the funnies', this group exhibition will be an exploration of the simplistic visual language of the cartoon. Utilising exaggeration, perversion, slapstick and absurdity, the works in The Funnies will instantaneously convey complex themes through basic gestures. The exhibition is not conceived as an illustration of the comic strip, but rather as an extension of its unruly ethos.
The Funnies will include works by artists Charlie Billingham, Mel Bochner, Cosima von Bonin, Werner Büttner, George Condo, Philip Guston, Sanya Kantarovsky, Martin Kippenberger, Sarah Lucas, Simon Mathers, Helmut Middendorf, Oliver Osborne, Jon Pylypchuk, Anne Speier, Sue Webster & Tim Noble, Jesse Wine, Rose Wylie.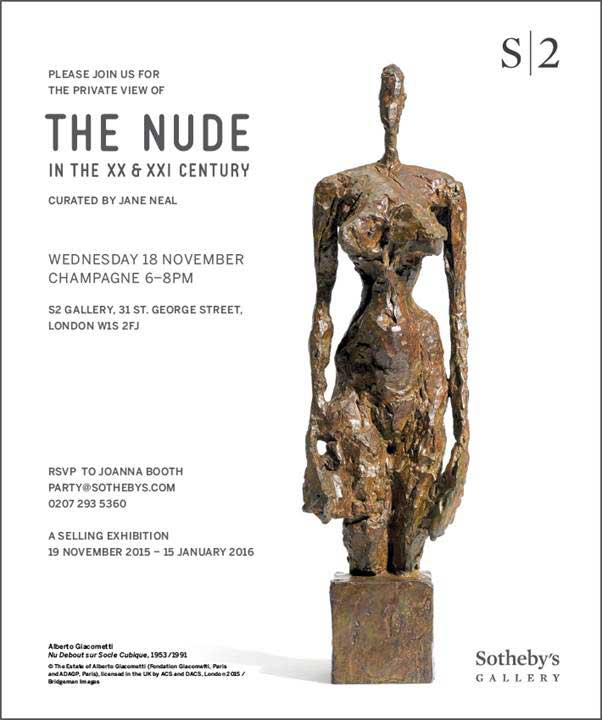 The Nude in the XX & XXI Century
Sotheby's
S|2 Gallery, 31 St. George Street, London W1S 2FJ
19 November 2015 – 15 January 2016
Private View: 18 November 2015, 6–8pm
Body politics surrounding The Nude in the 20th and 21st Centuries have provoked some of the most hotly contested debates in history. The human body, and most especially the naked human body, has fascinated artists for millennia ostensibly because, no matter what the era, our relationship with the corporeal is a necessary constant and our love affair with the body is intrinsic to our survival.
Curated by Jane Neal, The Nude in the XX & XXI Century comprises works from a selection of artists whose practices engage with the historic iconography of The Nude and who use this subject to consider the place of the body within our changing cultural landscape. With the increased intersection of the fine art and fashion worlds visible throughout Western media, the concept of 'Body Beautiful' has become something to aspire to – a new icon for our age – but one robbed of religious significance, romantic context, or intellectual import. In reaction to this act of dehumanisation, artists have focused on The Nude as a ground upon which to project desires and a motif through which they might explore sexuality, gender politics, and the relationship between the body and society. For artists the Nude remains an almost endless source of inspiration, occupying a unique place in art history as well as in our collective unconscious.
Marina Abramović, Zsolt Bodoni, Armin Boehm, Louise Bourgeois, Cecily Brown, Paul Cézanne, Mircea Cantor, Tamara de Lempicka, Marlene Dumas, Martin Eder, Tracey Emin, Lucian Freud, Robert Fry, Alberto Giacometti, Antony Gormley, Stéphane Graff, Gustav Klimt, Justin Mortimer, Edvard Munch, Tim Noble and Sue Webster, Pablo Picasso, Dione Roach, Egon Schiele, Dennis Scholl, Attila Szucs, Alexander Tinei, Kees van Dongen, Caroline Walker, Tom Wesselmann, Hugo Wilson and Jonathan Yeo.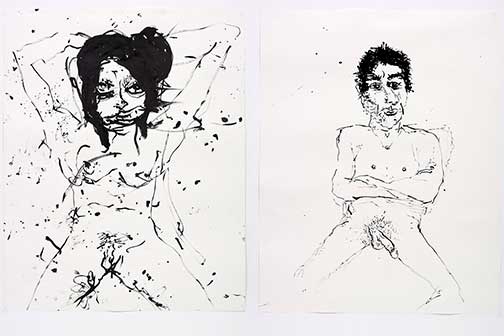 IOU with BEAT
RED Gallery Basement and Arts Club
1–3 Rivington Street, London, EC2A 3DT
15–16 October 2015, 7:00pm–2:00am
15 October: Bo Ningen – No Bra – Class War – Ayakamay.
16 October: Wild Daughter – Luis Drayton – Winnie the Poof – Eyeshadows.
Two nights of live music and performance celebrating the best of the East London Underground scene to coincide with Frieze week October Thursday 15, 7pm–2am & Friday 16, 7pm–2am 2015.
Artists in Residence: Sexotheque DJs; Sue Webster; Hanna Hanra; Helen Bullock; John Booth; Anne McCloy: SomeProduct.
IOU is a collaboration between BEAT magazine, Sue Webster, Anne McCloy and RED Gallery. Over two nights in the RED Gallery Basement and Arts Club, major players from within the East London scene who work both locally and internationally will join forces in an experiment in underground sound. The programme will be as diverse as the performers and include cross gender alternative cabaret hardcore, multifarious universal cross-cosmopolitan artists, loud loud noise and visual artworks.
Experimentation in the alternative is to be encouraged, audience and performer as one.
Tickets Available from: Ticket Source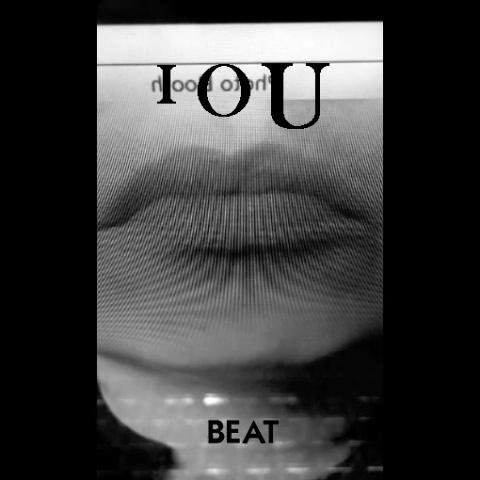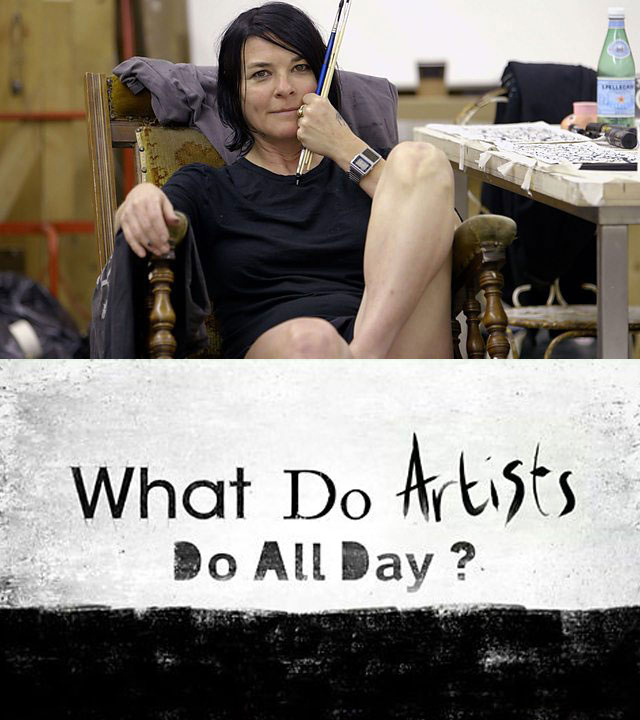 What Do Artists Do All Day?–Sue Webster
BBC FOUR
Monday, 15 June 2015, 22:00 pm
Tuesday, 16 June 2015, 2:05 pm
What Do Artists Do All Day? For years, Sue Webster and Tim Noble were the hippest power couple in the art world. Their punk aesthetic – creating modern sculpture from recycled rubbish – and the art they made out of their personal relationship made them a notorious artistic double act. They recently split, but continue to collaborate.
This film follows Sue Webster at work on new projects, including a cook book, painting nude portraits of Tim, and talking frankly and entertainingly about past success and her plans for the future as a solo artist.








Sue Webster: The Folly Acres Cook Book
Other Criteria NYC
458 Broome Street, New York City
Wednesday 8 April 2015, 6–8pm
Extract performed by Sue Webster, poetry reading by PJ Harvey. With an accompanying exhibition of drawings and bronzes by Tim Noble & Sue Webster.
The Folly Acres Cook Book combines recipes from the kitchen of the Gloucestershire smallholding shared by Tim and Sue, along with drawings, photographs, thoughts, anecdotes and personal memories.
Available at: Other Criteria, Amazon.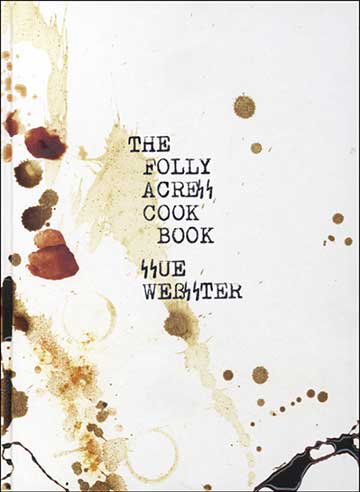 Sue Webster: The Folly Acres Cook Book
Loose Ends with Clive Anderson
BBC Radio 4 and later on BBC iPlayer Radio
Saturday, 18:15, 24 January 2015,
Sue Webster is going to be talking about The Folly Acres Cook Book on BBC Radio 4's Loose Ends with Clive Anderson on Saturday 24th January. It's a mix of chat music and comedy with a few guests all in the studio at the same time. Sue's on with Nikki Bedi, Tom Conti, Simon Nicol, Bidisha, & Fairport Convention.
Initial broadcast is at 18.15 on Saturday January 24, with three repeats on BBC Radio 4 Extra during the week. (11.15 Jan 26th), (21.15 Jan 26th), (04.15 Jan 27th).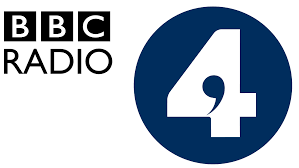 Sue Webster: The Folly Acres Cook Book
Other Criteria
14 Hinde Street, London W1U 3BG
Publication: 20 November 2014
The Folly Acres Cook Book. British artist Sue Webster offers readers a rare glimpse into life as one half of the acclaimed artist-duo, Tim Noble and Sue Webster. The Folly Acres Cook Book combines recipes from the kitchen of the Gloucestershire smallholding shared by Tim and Sue, along with drawings, photographs, thoughts, anecdotes and personal memories.
Originally cooked for family and friends including the chef Mark Hix, and the singer songwriter PJ Harvey, the recipes form an illustrated diary of Webster's life between the years of 2010 and 2014. Testament to her irreverent humour, Webster includes both classic and experimental dishes, alongside creative instructions for life in the country. She explains: "As I executed each idea I would test it out on a variety of guinea pigs, and recorded each dish on my iPhone. Sometimes I got bored of the edible dish and would photograph the garbage in the bin – the potato peelings and egg shells, as I found this to be somehow more attractive and synonymous to the trash sculptures that Tim and I had made."
Introduced with an original poem by PJ Harvey that was inspired by her visit to Folly Acres, the Cook Book is hand-typed on a 1940s Olympia Robust typewriter originally developed for use by the German militia during World War II. Illustrated throughout with colour photographs and illustrations by both Tim and Sue.
Available at: Other Criteria, Amazon.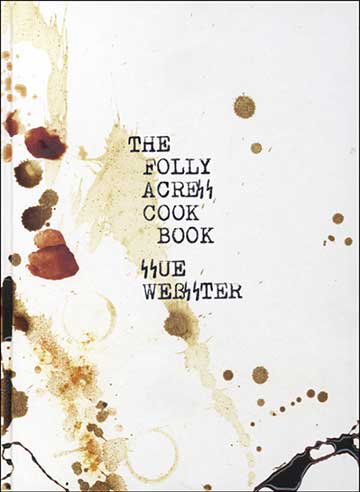 30 Years of the Future
Castlefield Gallery | Agency
2 Hewitt Street, Manchester, M15 4GB
5 December 2014 – 1 February 2015
Opening times: Wed to Sun 1pm–6pm
This December Castlefield Gallery (CG) is celebrating its 30-year history with the exhibition 30 Years of the Future. For 30 Years of the Future CG has asked prominent contemporary artists, curators and thinkers who have contributed to its 30-year history to nominate artists who they consider to be shaping the future of contemporary art. Sue Webster has nominated Danny Fox for selection and inclusion into this exhibition.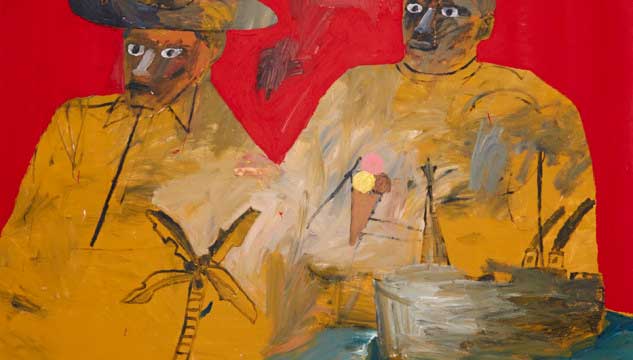 Danny Fox, What are Cornish Boys to do?, 2014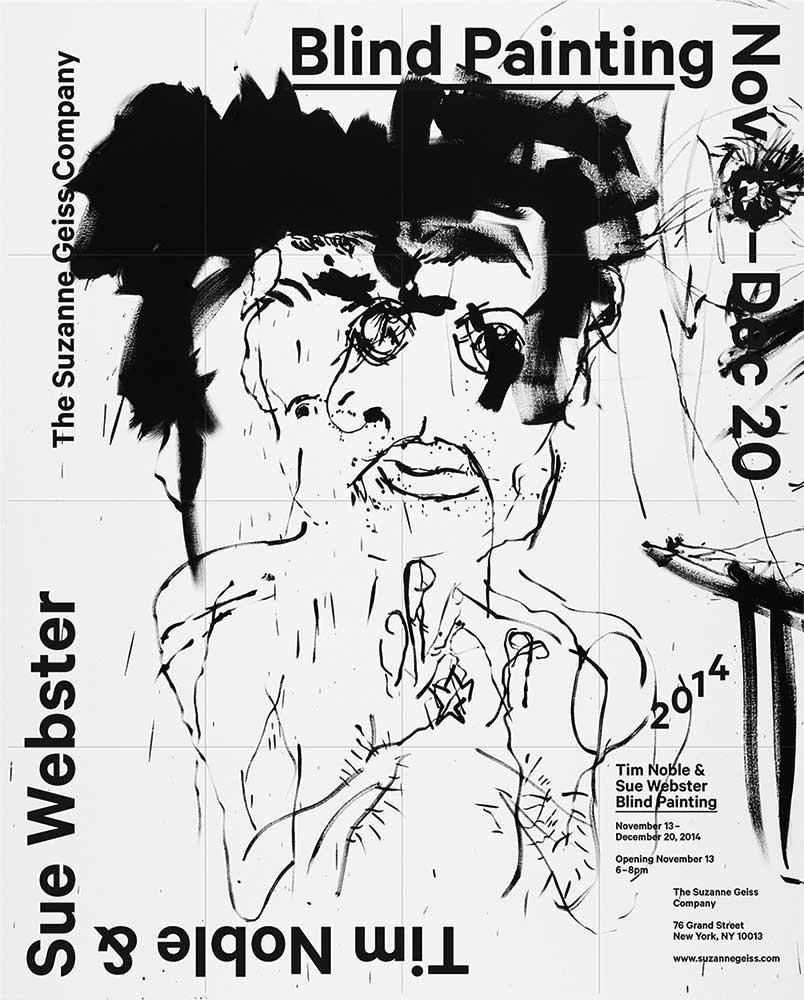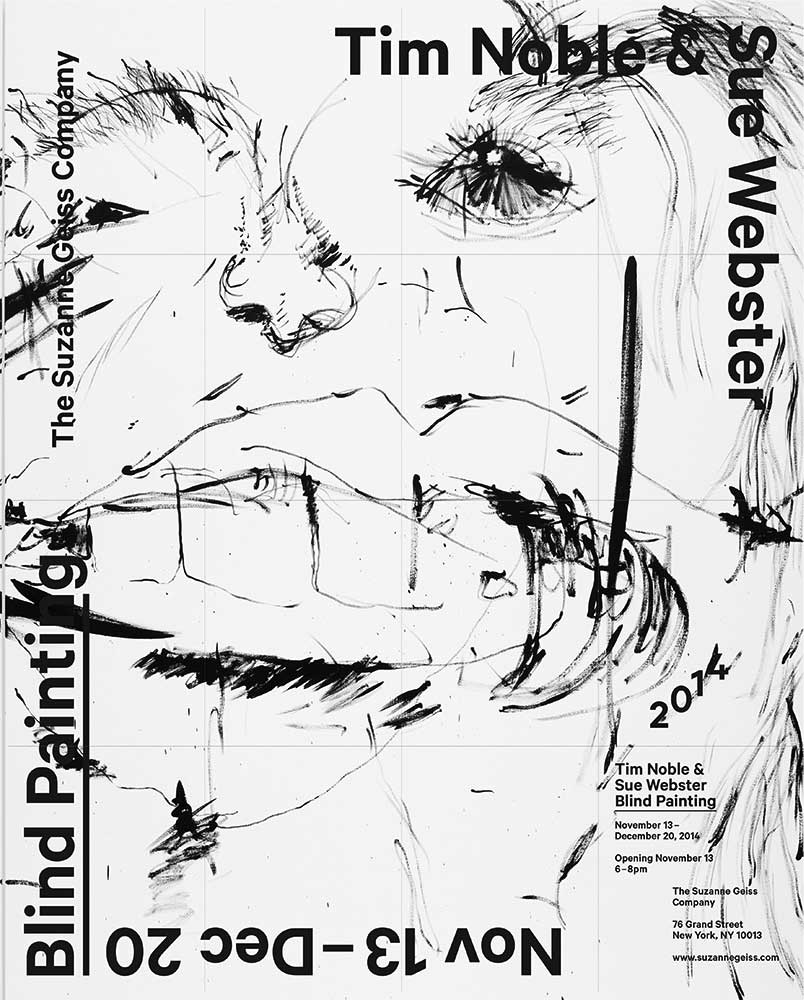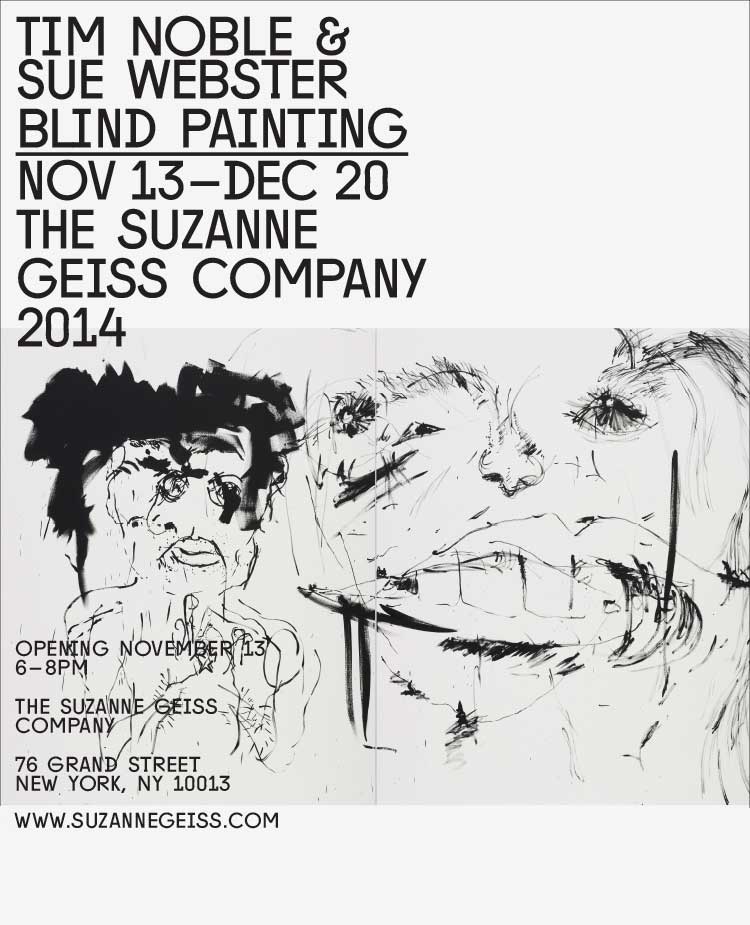 Blind Painting
The Suzanne Geiss Company
76 Grand Street, New York, NY 10013
13 November – 20 December 2014
Private View: 13 November 2014, 6–8pm
Blind Painting, a solo exhibition of automatic paintings by Tim Noble and Sue Webster, will be the artists' first New York solo show since 2008. Known for their sculptural shadow portraits built from bones, detritus, and cast body parts, the artists engage codependent opposites like intimacy and alienation, sex and violence, and high and low culture.
Noble and Webster continue to explore cultural and psychological paradoxes through a new set of constraints in a new medium. For their "Blind Paintings," the artists voluntarily blindfold themselves to make portraits of each other from memory, surfacing tensions between familiarity and strangeness, control and chaos. Like the Surrealist's game of exquisite corpse, in which players collectively assemble a drawing by following absurd instructions, Noble and Webster welcome the effects of accident and the subconscious in their work. The series is comprised of large black and white paintings as well as smaller works on paper that the artists painted with their feet.
In the second series of "Feinschmecker" or "fine detail" paintings, the artists wipe and fling excess paint left over from the portraits onto blank canvases. A foil to the concentration and personal specificity of the blind-contour works, these unconstrained abstractions embody an act of doing without thinking, recalling Rorschach tests and stream of consciousness experimentation.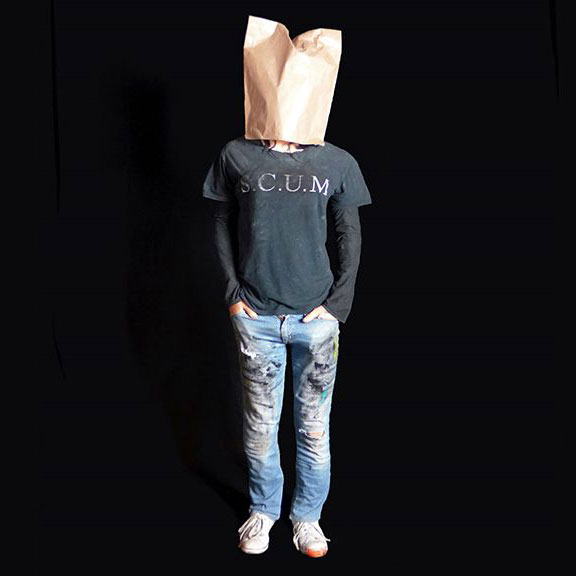 Half Cast at The Door
The Society Club
12 Ingestre Place, Soho, London, W1F 0JF
16 October – 18 November 2014
Half Cast, a solo project by Tim Noble, takes the form of a life-size sculpture portrait, the top half of his collaborative partner and wife, Sue Webster and the bottom half of Noble himself.
Hosted by The Society Club, The Door is literally a doorway on Ingestre Place, Soho, London, which will rotate its exhibitions on a monthly basis and aims to showcase the best of British art.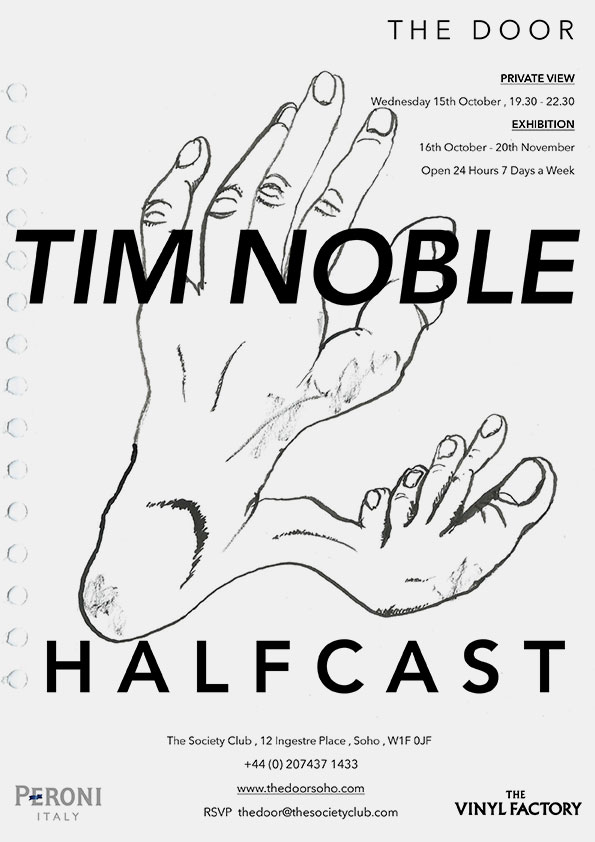 Light Fantastic
House of the Nobleman
12 Hay Hill, London, W1J 8NR.
14–18 October 2014.
Curated by House of the Nobleman director, Victoria Golembiovskaya, Light Fantastic is a dazzling presentation of art works by leading artists of the genre including Conrad Shawcross, Cerith Wyn Evans, Troika, Random International and Tim Noble & Sue Webster.
Throughout history, artists have been fascinated by light, its nature, behavior and transformative qualities, but only in the last few decades, assisted by vast technological developments, has it become a medium for art. The project will also be showcasing a new interactive light technology in collaboration with the Lighting Design Collective and will be accompanied by a program of talks, events and performances.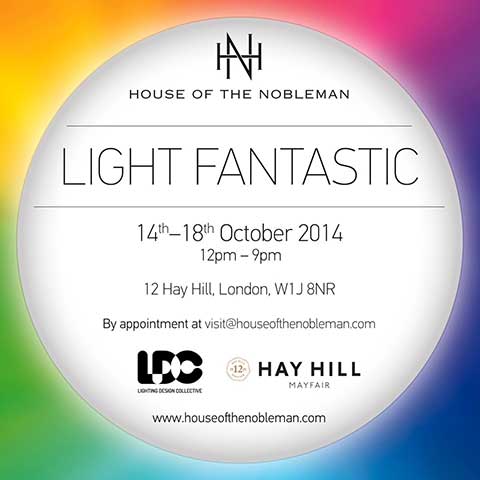 What Marcel Duchamp Taught Me
The Fine Art Society
148 New Bond Street, London W1S 2JT.
10 October – 5 November 2014.
Marking the centenary of Duchamp's readymade, The Fine Art Society is proud to present a major group exhibition What Marcel Duchamp Taught Me. It is the largest show in the history of the gallery, taking over the entire five floors of the Bond Street townhouse as over 50 Contemporary artists respond to Duchamp and his legacy.
The readymade is a concept that challenged the very notion of art itself. As a result of this gesture, anything could be art if the artist chose it. Duchamp's impact not just as an artist but also as a great thinker and writer, is incalculable. His afterlife is undoubtedly phenomenal and his legacy is a subject continually discussed by art historians and critics. Yet it is so deeply embedded in the practice of art that it is hard to pin down. So instead The Fine Art Society has asked artists to respond directly and personally.
Marcel Duchamp (1887–1968) is a multifaceted figure who still looms large over contemporary art. Duchamp is worshipped by some and condemned by others – either way there is no disputing that he is one of the most influential artists of the twentieth and twenty first centuries.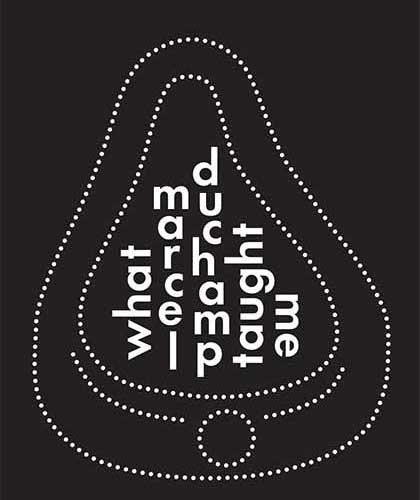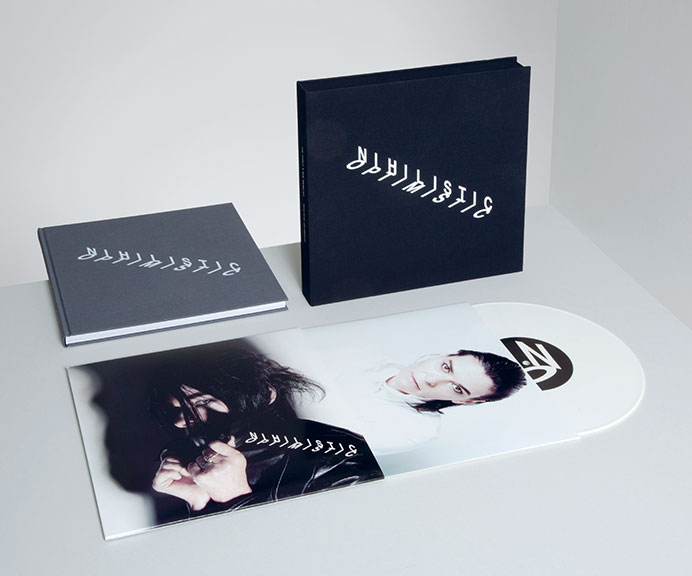 The Collector's Edition
Author: Stuart Tolley

Publishing date: 18 August 2014.

The Collector's Edition is a visual culture book authored by Stuart Tolley and published by Thames & Hudson. Showcasing the new wave of beautifully produced, limited edition, large format, graphic design and packaging for music, book, magazines.

Pre-orders are now available on Amazon, Waterstones, Telegraph, The Guardian and Book Depository websites.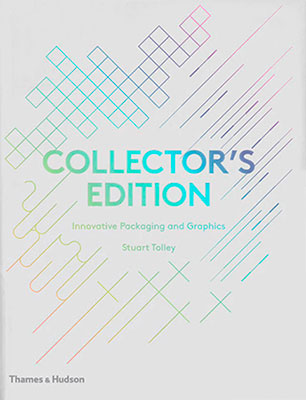 The Space Where I Am
Blain|Southern
4 Hanover Square, London, W1S 1BP.
17 July – 27 September 2014.
Private View: 16 July 2014, 6.00pm – 8.00pm
The Space Where I Am, a group show exploring ideas of the void and emptiness from the 1960s to the present day. The exhibition's title is taken from philosopher Gaston Bachelard's book The Poetics of Space (1958), which describes the lived experience of space and where he contended "it is better to live in a state of impermanence than in one of finality". All of the assembled works examine the dialectic between absence and presence, primarily valuing absence in the construction of form.
Spinning Heads in Reverse (2006) by Tim Noble & Sue Webster actively plays with positive and negative space. Self-portraits of the artists appear to be both physically absent but simultaneously present, perhaps only truly resonating in the viewer's imagination. The exhibition includes work by Carl Andre, Keith Conventry, Lucio Fontana, Tom Friedman, John Gerrard, Michael Joo, Donald Judd, Rosy Keyser, Gordon Matta-Clark, Michelangelo Pistoletto, Tim Noble & Sue Webster, Gerhard Richter, James Turrell, Bill Viola, Lawrence Weiner, Rachel Whiteread.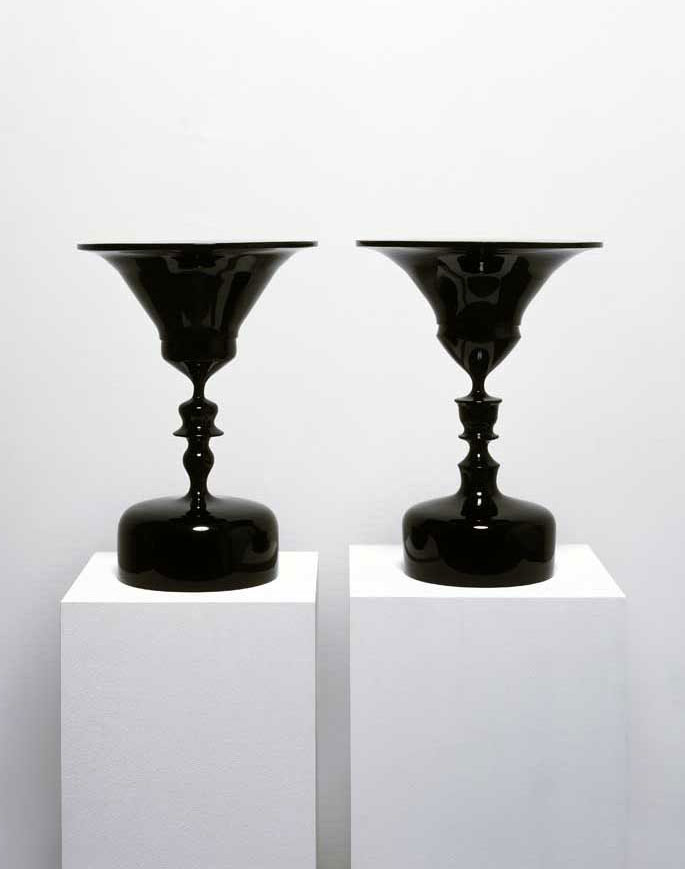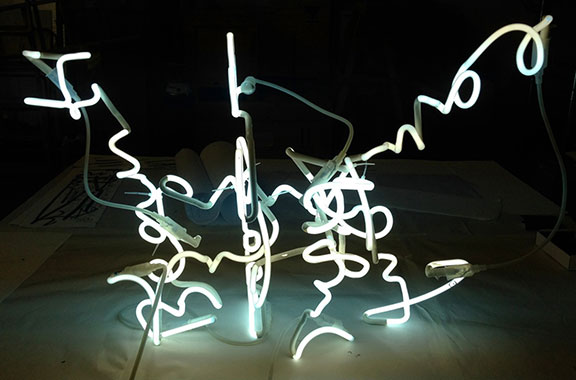 Old Rope
Curated by Polly Morgan

Pippy Houldsworth Gallery
6 Heddon Street, London, W1B 4BT

11 July – 30 August, 2014

Old Rope, a group show curated by artist Polly Morgan. Bringing together work by Susan Collis, Martin Creed, Tracey Emin, Boo Saville, Amba Sayal-Bennett and Sue Webster, Morgan wishes to explore how each of these artists engages with the term 'Money for Old Rope'. The expression is said to come from a time when old ropes were picked apart for their frayed fibres and reused for caulking or stuffing mattresses. Another reading of this expression dates back to public executions when souvenir hunters would pay for pieces of a used noose transformed by its association with an infamous criminal.
fuckingbeautiful in pieces, 2014
5 neon sections, transformer
Dimensions: 55 x 80 x 25 cm






Forever
The Metropolitan Art Society
Trabaud Street, Ashrafieh, Beriut, Lebanon.
Opening reception 6.00pm, 21 May 2014.
An Exhibition curated by the Suzanne Geiss Company
The exhibition includes the works by Kristin Baker, Mira Dancy, Chris Johanson, Ryan Johnson, Melodie Mousset, Ben Wolf Noam, Tim Noble & Sue Webster, Brian Scott Campbell, and Torey Thornton.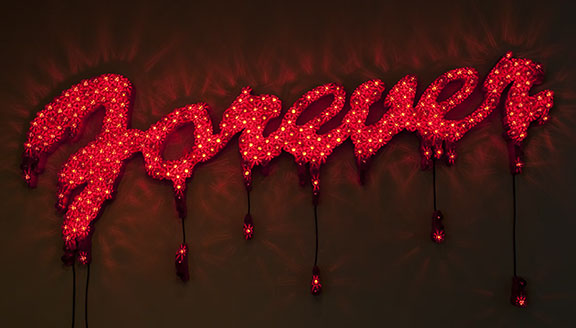 The Gamekeeper's Gibbet acquired by the Art Gallery of South Australia

The Gamekeeper's Gibbet, a work by Tim Noble & Sue Webster, has been acquired by the Art Gallery of South Australia. The work, which is made from solid sterling silver coated in pure gold, and was first presented at the exhibition Turning the Seventh Corner, Blain|Southern Berlin, 2011.

The Director of the Art Gallery of South Australia, Nick Mitzevich, has said the following of the acquisition:

"Portraiture dominates the Art Gallery of South Australia's European collection, which includes strong holdings of British art. . . This contemporary installation talks to the art of the past while introducing audiences to cutting edge 21st century art. . . The Gallery is thrilled with this addition to its international contemporary art collection."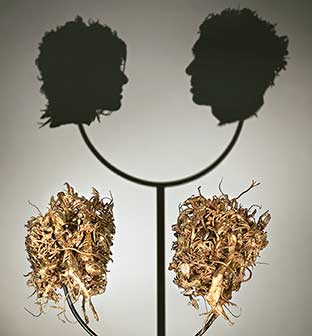 An Extraordinary New Acquisition

Art Gallery of South Australia
North Terrace, Adelaide
Wednesday 13 November 2013. 5.30 pm

A complimentary event; The Gamekeeper's Gibbet. A major gift, enabled through the generosity of Tim Fairfax AM, will be revealed to Art Gallery and Foundation Members at this event, prior to its public launch on Thursday 14 November 2013.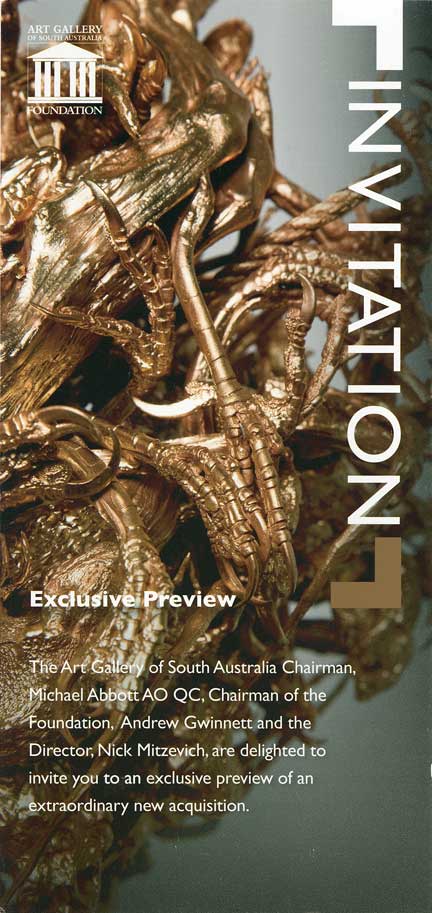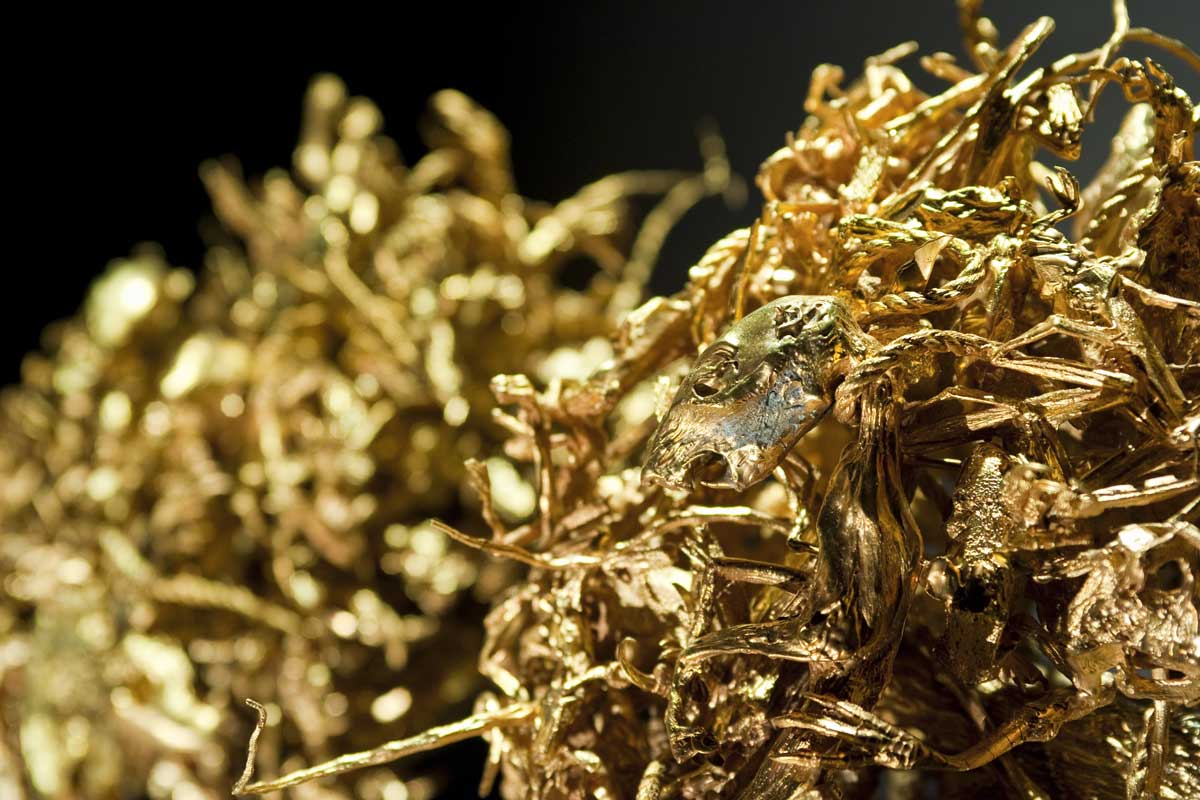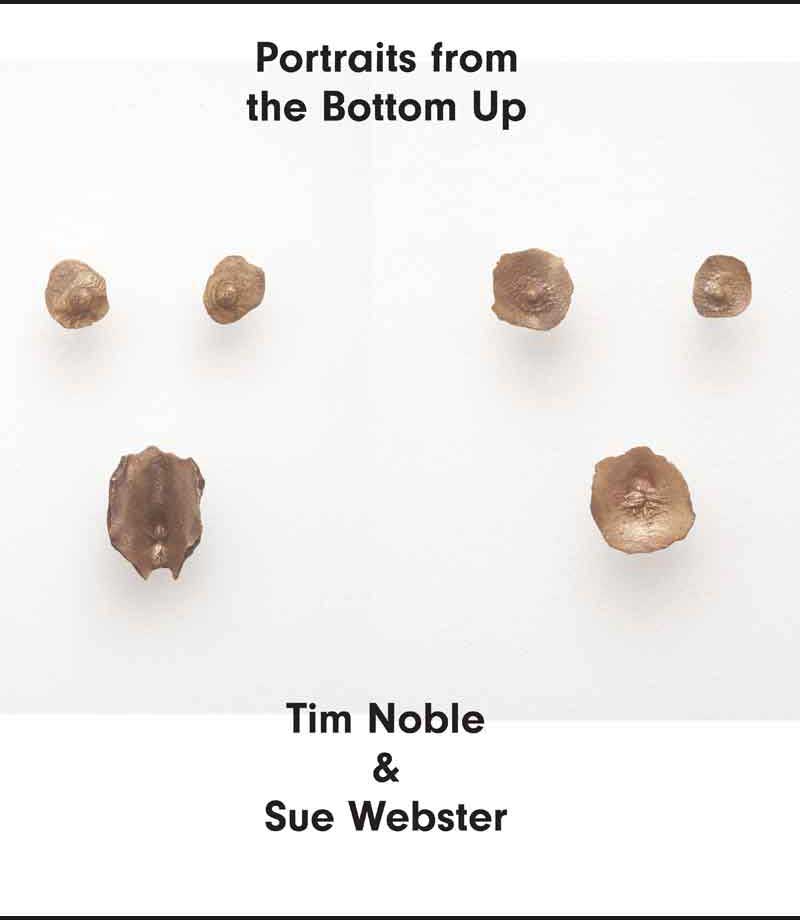 Portraits From the Bottom Up
Published by Other Criteria

Exhibition:
Other Criteria
36 New Bond Street, London W1S 2RP
16 October–18 November 2013

Private view: Tuesday 15 October 2013. 6–8 pm

New work created by Tim Noble and Sue Webster for Other Criteria. The editions to be presented at the gallery based at New Bond Street. Continuing to explore their investigation into self-portraiture the artists have produced an edition of ten bronze works and a series of unique monoprints.

The sculptures are cast bronzes of the artists nipples and arseholes, wall mounted, to challenge the brain by reflecting the positioning of the eyes and mouth. Also being shown, a series of unique prints, where the artists use their own bodies as human printing machines, printing directly onto Somerset Velvet 300gsm paper.





Other Criteria Online Shop
AVAILABLE SOON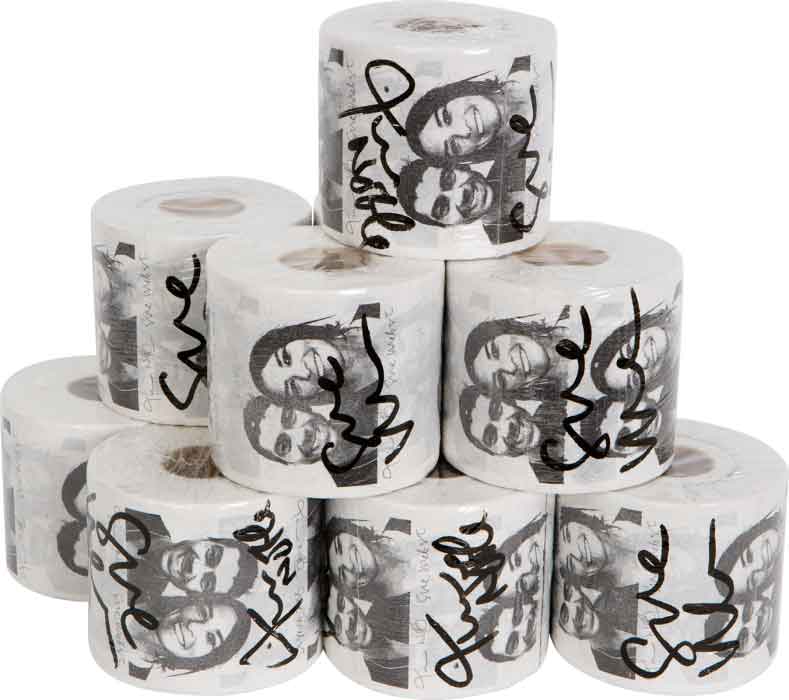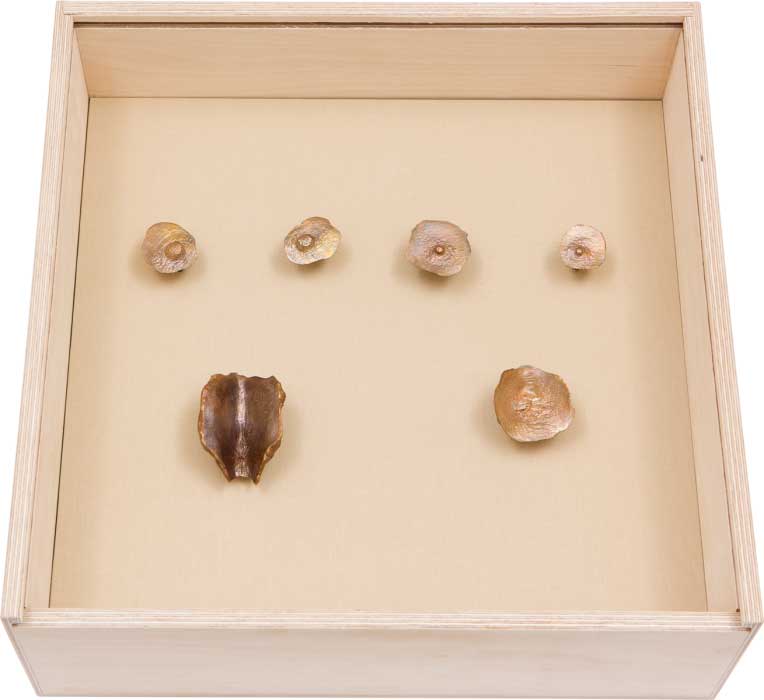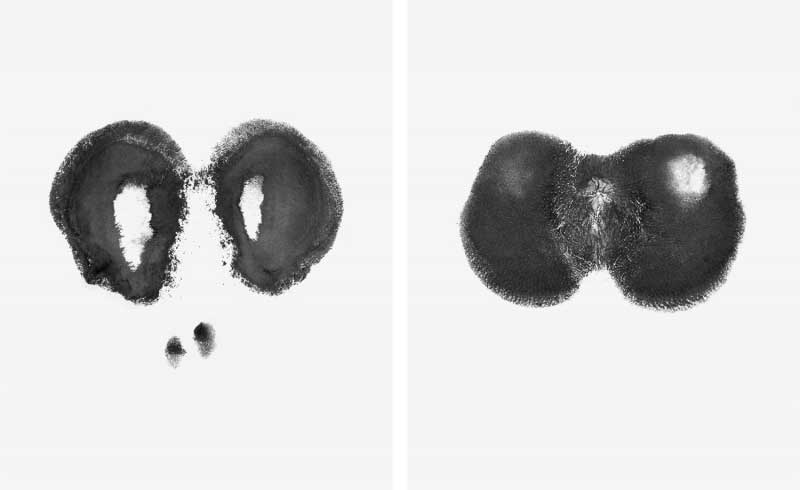 Wipe That Grin Off Your Face, 2013

Toilet paper
Sold by the roll
Unlimited edition
Printed signature on the paper
Signed by hand on the plastic wrapping

Portraits From the Bottom Up, 2013

Box: 430 x 422 mm
Bronzes in a customized printed plywood cigar box, includes installation Polaroid and paper template
Edition of 10
Signed and numbered

Black Bottoms (Diptych), 2013

Each print: 565 x 410 mm
Monoprints with black indian ink
Unique within a series of 75
Signed and numbered






Viewing Room
All Visual Arts
The Crypt, One Marylebone, 1 Marylebone Road,
London NW1 4AQ
15–20 October 2013.
Tuesday to Sunday 10 am–6 pm
Private view: Monday 14 October 2013. 7–10 pm
Viewing Room, curated by All Visual Arts directors Joe La Placa and Mark Sanders. The concept of Viewing Room is to present a salon style installation, with works that have been commissioned by AVA over the past five years. At the entrance of the exhibition, one is greeted by Bloody Forever by Sue Webster and Tim Noble; the flashing word 'forever' built with 325 red UFO reflector caps, lamps and holders, driven by a DMX sequencer that simulates dripping blood.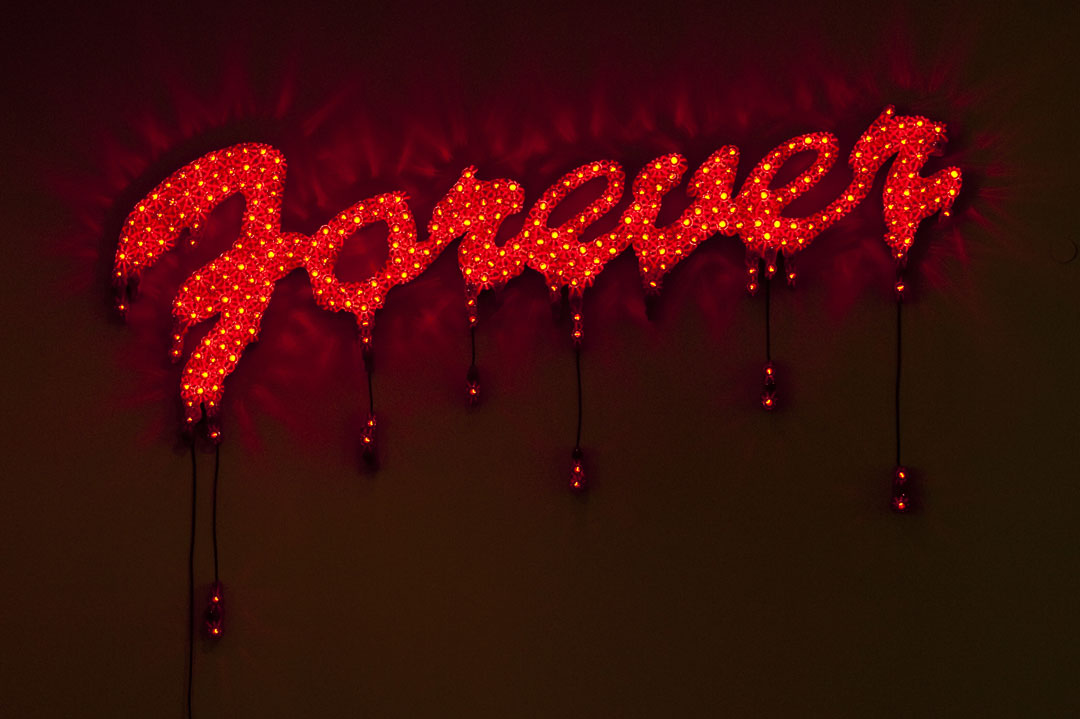 1.pers.sing: Künsterkörper zwischen Selbstportät und Performance
(The Artist's Body Between Self-portrait and Performance)

b-05 Art and Design Center
Montabaur, Germany

26 May–22 September 2013

The exhibition – curated by Johannes Sperling – investigates the different approaches and motivations for the presentation of the self between portrait and performance. Artists have been exploring new ways of including their own body or their physicality within their work of art. The radicalism of the practice as the first of its kind was emphasized by its prohibition as displayed in a secretly taken photograph of Timm Ulrichs' restaged exhibition in a museum's storage facility.

The exhibition 1.pers.sing combines renowned international artists such as Candice Breitz, Jonathan Meese, Ai Weiwei, Ragnar Kjartansson and Tim Noble and Sue Webster.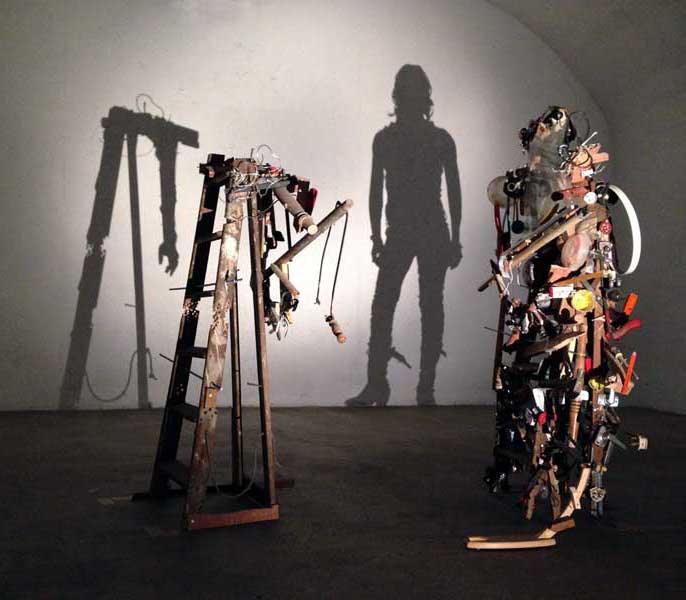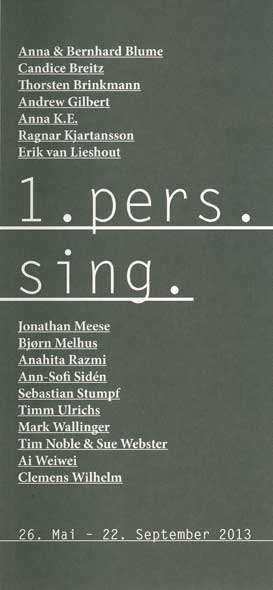 Nasty Pieces of Work, 2008–09
2 wooden stepladders, discarded wood, broken tools, light projector





Factual Nonsense–The Art and Death of Joshua Compston
Paul Stolper Gallery
31 Museum Street, London WC1A 1LH
21 June–31 August 2013.
Factual Nonsense – The Art and Death of Joshua Compston is both a biography and an alternative portrait of the 1990's art scene in London's East End.
Compston is perhaps best remembered for his collaborative street events; The Hanging Picnic, Compston's third and final summer event, was an art exhibition and picnic. Compston selected objects by 25 artists, including Iain Forysthe, Jane Pollard, Tim Noble and Sue Webster, to hang on the railings of Hoxton Square.
"So I was walking around Hoxton Square listening for inspiration. There were these group of men sitting on a bench drinking Special Brew shouting out slurry words to each other, and whoever was listening. I continued walking around the square, and shattering the sweet bird song was a crow hawking, the crow and the slurry men shooting offensive words spliced together in my mind. There and then the Abusive Bird Box was conceived.
The Hanging Picnic attracted many happy picnickers, my bird boxes installed on a near by tree, crowed out their abusive sound, "birth,birth,birth! work,work,work! fuck,fuck! death,death,death", until finally someone could take no more and yanked out the wires to a rapturous applause." Tim Noble.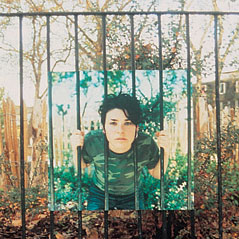 Head in Bars, 1995–2013
Cromalin print on Foamex.
Edition of 10 + 2 APs
69 x 67.5 cm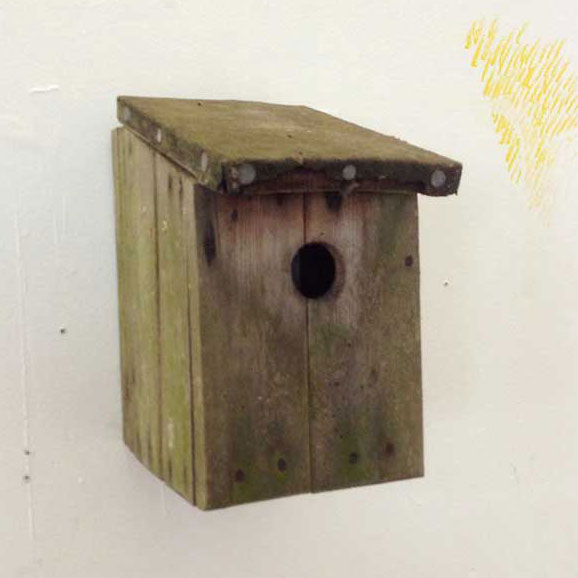 Abusive Crow (Birth, Work, Fuck, Death), 1995–2013
Bird box, iPod audio loop, speaker
Edition of 3 + 2 APs
28 x 16 x 25 cm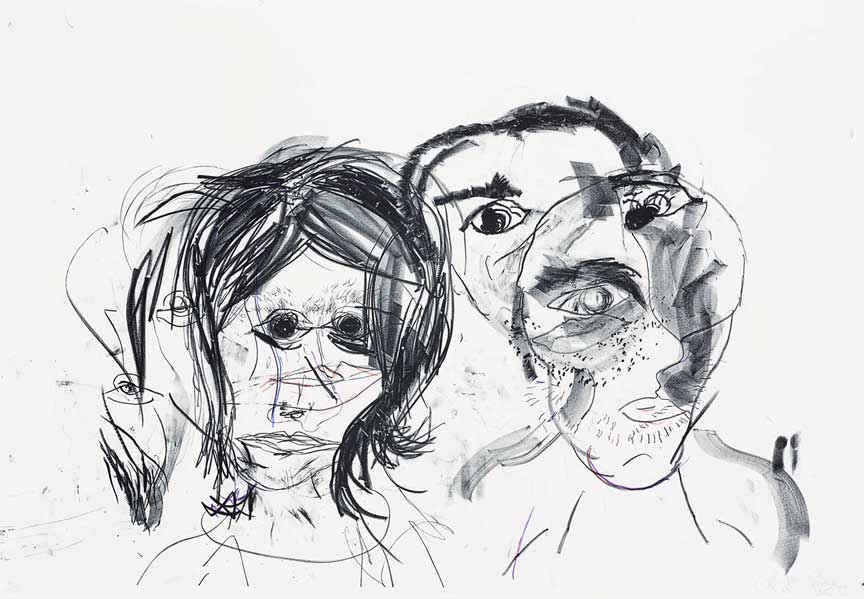 Edition Copenhagen
15–19 April, 2013

Edition Copenhagen was founded in 1959 by Carl Urwald. Today the gallery has three partners Rasmus Urwald, Dannie Vieten and Peter Wissing Sørensen. The gallery is located at Christianshavn in Copenhagen and houses both a lithographic workshop and a gallery space. Edition Copenhagen is one of the leading lithographic workshops in Europe. Each year the gallery invites a number of international and Danish artists to create lithographs in the workshop.

This is the first time Tim Noble & Sue Webster have visit the workshop in Copenhagen and also the first time they've creating stone prints.
Double Double Vision Vision, 2013
Lithograph on 250gsm Velim Arches handmade paper
Dimensions: 70 x 100 cm

In Search of Imperfection
"If things are going too nice, you have to mess things up, trust your instincts." Meet the acclaimed British artists Tim Noble and Sue Webster while they work on mutual self-portrait, using a blindfold as a method. A Louisana Channel video interview.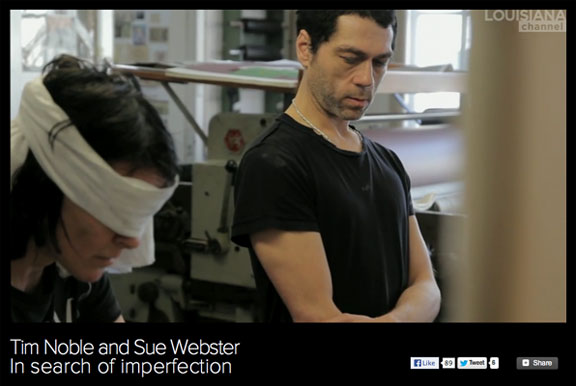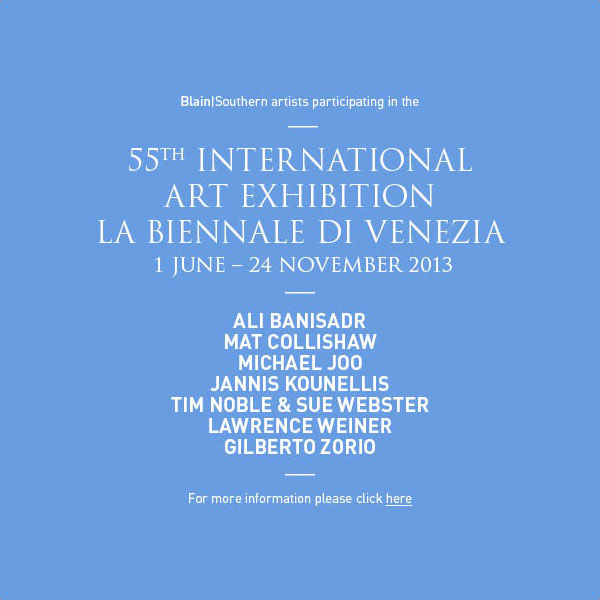 55th Venice Biennale
Glasstress: White Light/White Heat
1 June – 24 November, 2013
In a unique collaboration between the Berengo Studio (Venice), Venice Projects (Venice), London College of Fashion and the Wallace Collection (London), Glasstress: White Light/White Heat presents a newly commissioned work by Tim Noble & Sue Webster together with other important contemporary artists of today, most of whom will be working in glass for the first time.
The exhibition builds on the success of two previous Venice Art Biennale Glasstress shows (2009, 2011), with some fifty artists invited to respond to the theme of light and heat, the components of fire, the fundamental elements involved in the formation of the universe and also the essence of glassblowing. Light is integral to our perception of glass, while heat is required to shape it. Curated by James Putnam and Adriano Berengo.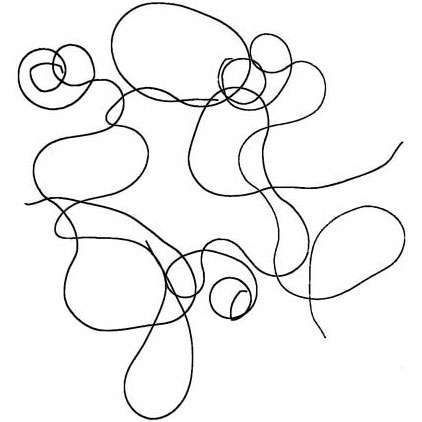 Tim Noble & Sue Webster + Bo Ningen
Meltdown Festival – 20 June 2013
HAIR by Tim Noble & Sue Webster
Tim Noble & Sue Webster have been invited by Yoko Ono to present their collaborative project with the Japanese rock band Bo Ningen as part of Yoko Ono's Meltdown Festival 2013 at the Royal Festival Hall on Thursday 20 June 2013.
The performance will see Sue Webster and Tim Noble provide a new re-animated visual of HAIR for the Bo Ningen band set, especially recreated for this event, a free show, taking place on the stage of The Clore Ballroom following the sold out Iggy & The Stooges show.
HAIR was first conceived for the Venice Biennale, 2011 and then later at the CPH PIX festival, 2012.






Death and Adornment
Jewellery by Tim Noble & Sue Webster

Louisa Guinness Gallery
c/o Ben Brown Fine Arts, 21 Cork Street, London W1S 3LZ

March 2013. 10am–6pm

Powerful, irreverent, subversive and humorous, the defining qualities of Tim and Sue's work have not been lost in translation as rings, necklaces and bracelets.

The infamous British double act were already familiar with the medium when they were approached by Louisa in 2004; Tim's mother was a goldsmith and before he met Sue, Tim wore a silver skull ring he modeled himself cast at his request, by his mother. Years later Tim gave the same designed ring cast in gold to Sue, soon after they had first met. This ring went on to inspire a series of cufflinks designed by Tim & Sue in 2004. [projects]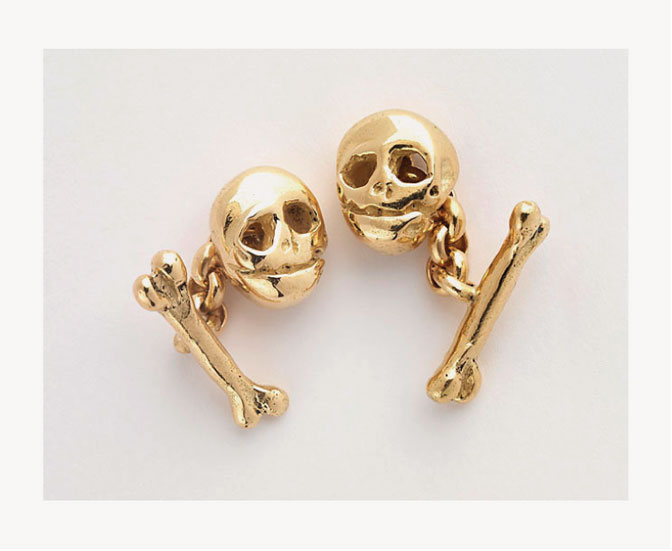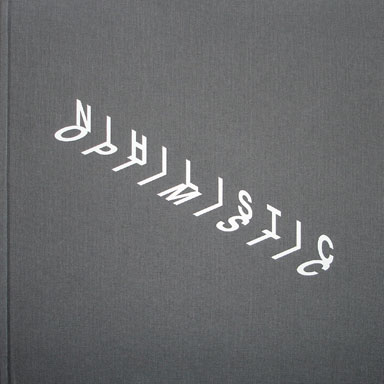 Nihilistic Optimistic
Tim Noble and Sue Webster
Authors; Gustav Metzger, Hans Ulrich Obrist and Jon Savage
Hardback / 262mm x 262mm / 104 pages / illustrated in colour and b&w / £30 UK [Cornerhouse] [Amazon]
Blain|Southern has published a 104-page catalogue to accompany the exhibition, Nihilistic Optimistic. Featuring six large-scale works, the show builds upon the artists' sustained investigation into self-portraiture, further deconstructing the relationship between materiality and form which has been so intrinsic to their practice.
Constructed principally from discarded wood and other materials, the artists describe these sculptures as 'street compositions'. Each work appears abstracted or even unfinished as the debris of the artists' studio – gathered sawdust, wood shavings and tools – lie scattered around the sculptures.
The publication includes photographs of the works in the exhibition, as well as a contribution from Gustav Metzger, an essay by Jon Savage and an interview with Hans Ulrich Obrist and Tim Noble & Sue Webster.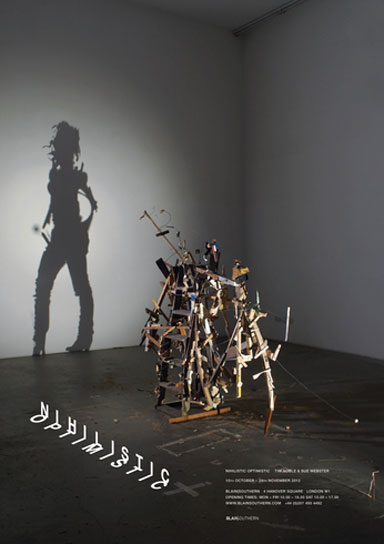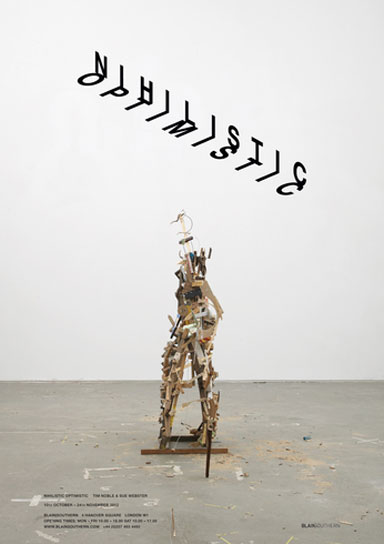 Nihilistic Optimistic Posters
Two posters designed on the occasion of Tim Noble
& Sue Webster's exhibition, Nihilistic Optimistic, at Blain|Southern, London.
Stock: Hello Matt 200gsm
Print: 4 Colour
Size: A1 (840 x 594mm)
Both Posters £15.00
Light Poster £10.00
Shadow Poster £10.00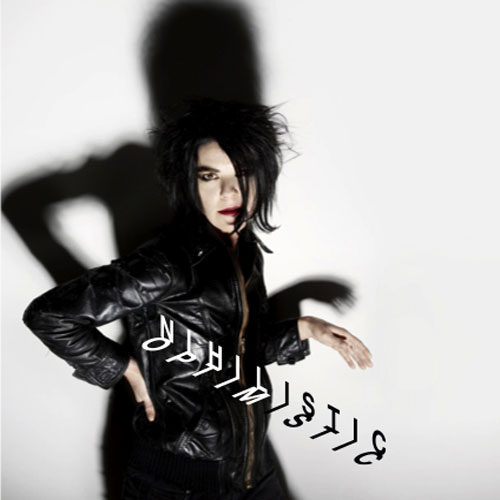 NO
The Vinyl Factory Chelsea
91 Walton Street
London SW3
12 October – 11 November 2012
Private view: 12 October 2012. 6–10 pm
The Vinyl Factory's latest exhibition is a collaboration with celebrated British artists Tim Noble and Sue Webster and legendary punk photographer Dennis Morris. The show will feature 11 new iconic portraits of the artists taken by Morris, famed for his seminal shots of the Sex Pistols, Bob Marley and PiL, and a sound installation by Tim & Sue.






Nihilistic Optimistic Vinyl

Tim Noble & Sue Webster
Limited Record Edition
The Vinyl Factory

Release date: 12 October 2012
Price: £ 100.00

Celebrated British artists Tim Noble and Sue Webster have collaborated with The Vinyl Factory and acclaimed punk photographer Dennis Morris to created a gatefold 12" edition of a spoken word piece to accompany their major new show, Nihilistic Optimistic.

Gatefold double 12" featuring special edit of Nihilistic Optimistic, Tim & Sue's spoken word piece recorded direct-to-disc at Electric Mastering, West London, Summer 2012. Two heavyweight 180-gram records, one white, one black, pressed on the legendary EMI 1400 at Hayes, Middlesex. Sleeve photography by Dennis Morris (Sex Pistols, PiL, Bob Marley).

Limited edition: 150, signed and numbered by Tim Noble & Sue Webster






NO–Nihilistic Optimistic Box Set

Tim Noble & Sue Webster
Limited Edition Vinyl Box Set
The Vinyl Factory

Release date: 12 October 2012
Price: £ 200.00

Released by The Vinyl Factory, a limited Tim Noble and Sue Webster Box set edition. NO is made up of 11 iconic portrait photographs of the artists taken by Dennis Morris.

The clothbound, clamshell box comprises:
• 10" record made by Noble and Webster
• Record sleeve photography by Dennis Morris
• 104-page hardback book, featuring original interviews, photographs and artworks

Limited edition: 200 copies worldwide, hand signed and numbered by Tim Noble & Sue Webster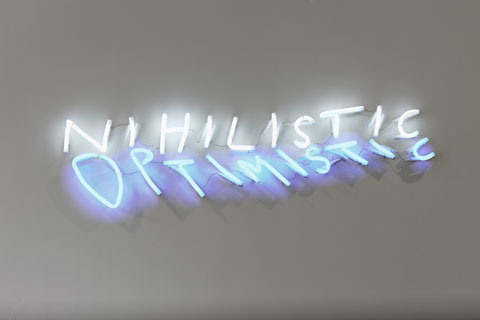 Nihilistic Optimistic
Blain|Southern
4 Hanover Square
London W1S 1BP
10 October – 24 November 2012
Private view: 9 October 2012. 6–8 pm
Nihilistic Optimistic, Tim Noble & Sue Webster's first major solo exhibition in London since 2006. Featuring six large-scale works, the show builds upon the artists' sustained investigation into self-portraiture, further deconstructing the relationship between materiality and form, which has been so intrinsic to their practice.
The exhibition's dualistic title, Nihilistic Optimistic, responds to the oppositional forces present within these works, and indeed within the artists themselves; the show is at once constructive and destructive, hopeful and despairing. Light and shadow, form and absence, figuration and abstraction all inform one another and exist in a constant state of tension.
A catalogue accompanies the exhibition, featuring contributions by Gustav Metzger, Hans Ulrich Obrist and Jon Savage. In collaboration with The Vinyl Factory, Tim Noble & Sue Webster have also produced a limited edition artwork in the form of a 10-inch record.









Metamorphosis: The Transformation of Being
All Visual Arts
The Crypt, One Marylebone Road
London NW1 4AQ
9–12 October 2012. 10 am–8 pm
Private view: 8 October 2012. 7–10 pm
Metamorphosis: The Transformation of Being. Curated by All Visual Arts directors Joe La Placa and Mark Sanders, with guest curator Wolfgang Schoppmann of the Thomas Olbricht Foundation, the exhibition takes a thought-provoking look at the evolving language of metamorphosis and transformation spanning over 400 years in the visual arts. Set in the Crypt of One Marylebone, the exhibition features over 100 works from 48 artists, some especially commissioned for the exhibition.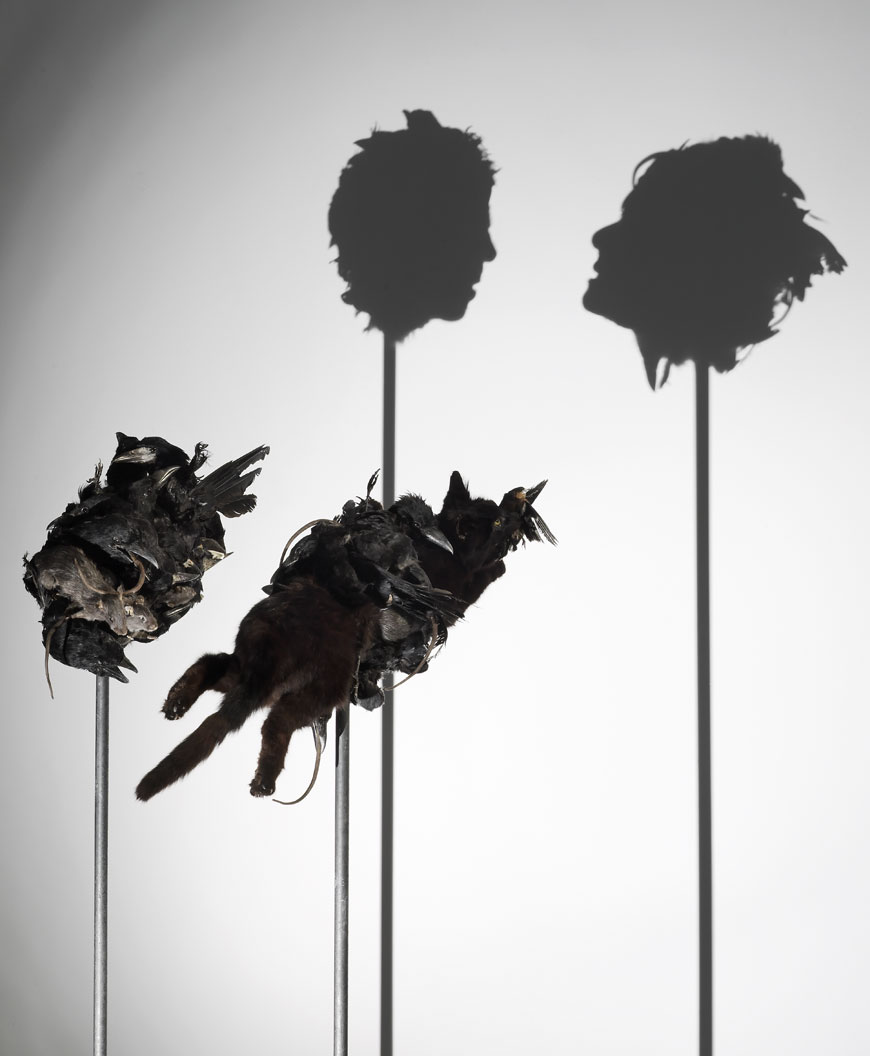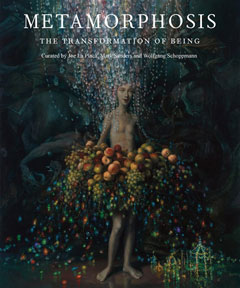 The Art of Chess
Saatchi Gallery & RS&A
Duke of York's HQ, Kings Road, London SW3 4RY
8 September – 3 October 2012.
This collaboration with RS&A brings together 16 chess sets designed by some of the world's leading contemporary artists in celebration of the 'game of kings' and its continued relevance to the creative arts.
This exhibition at the Saatchi Gallery will be the first time that all 16 chess sets are displayed together and it will also be the first public showing of a new commission by British artists Tim Noble and Sue Webster. Famous for their shadow sculptures, the artists have taken the opportunity to return to their on-going fascination with dead animals and have created a woodland chess set complete with hand carved tree stump with bronze chess pieces inspired by the artists' collection of mummified animals – found on their farm in Gloucestershire – squirrels take the roles of King and Queen and frogs act as Pawns.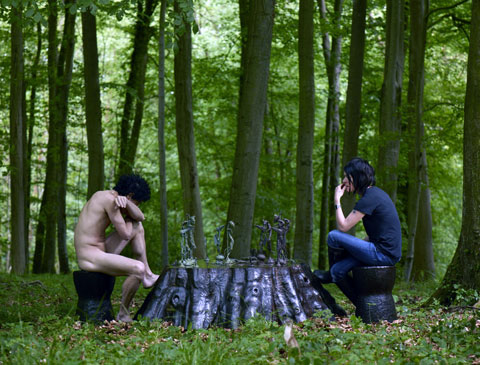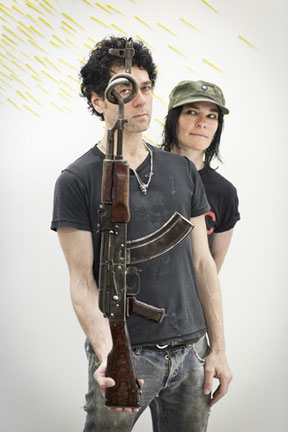 AKA Peace
Exhibition:
The Institute of Contemporary Arts (ICA). 25–30 September 2012.
Auction:
Phillips de Pury & Company, Howick Place, London SW1P 1BB.
Thursday, 4 October 2012
Peace One Day presents AKA Peace, an exhibition of new works by some of the most celebrated names in Contemporary Art, all of whom have agreed to transform a decommissioned AK-47 assault rifle, refashioning what has become a symbol of global violence on the broadest scale into artworks of intrigue and even beauty.
The exhibition, originally conceived by photographer Bran Symondson and now curated by artist Jake Chapman, coincides with Peace Day, Friday 21 September 2012; it will raise awareness of Peace Day and raise funds for Peace One Day's Global Truce 2013 campaign.






A Few Extra Turns of the Screw and other web news and reviews in 2012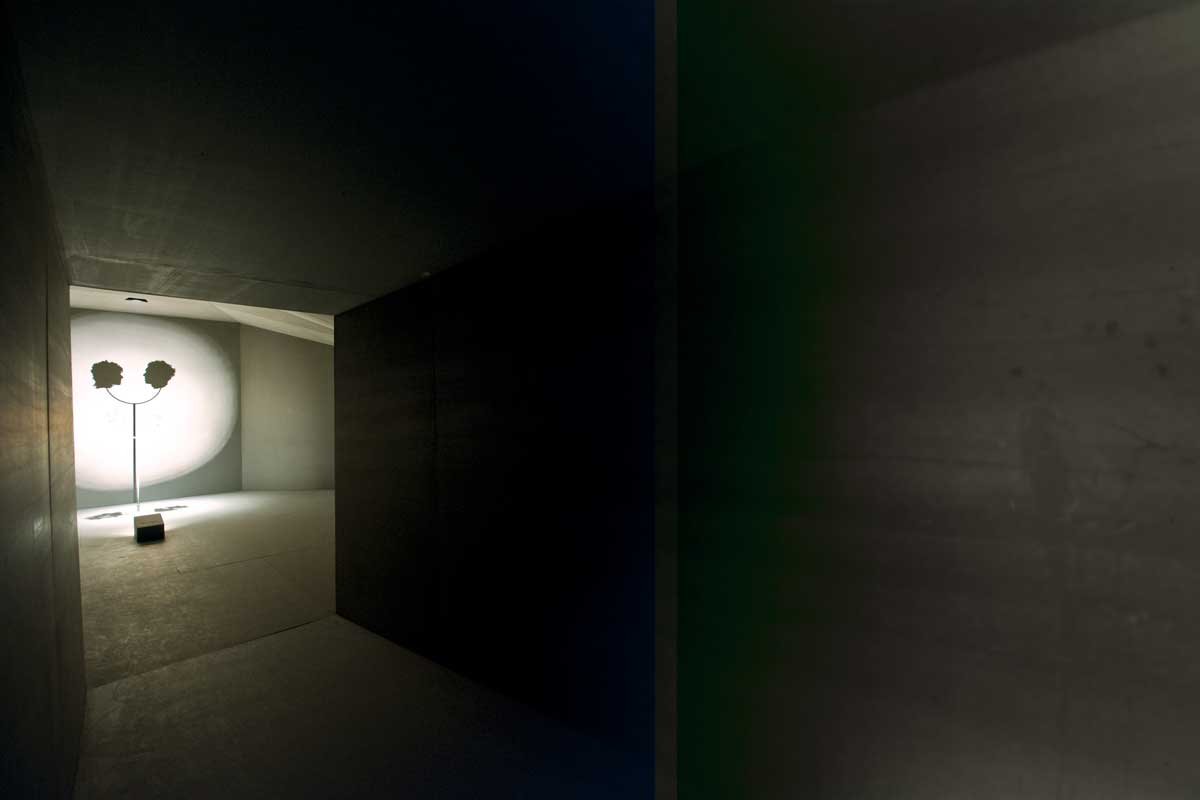 Art in the East End: Tim & Sue
Hunger TV article and video interview
Interviewer: Tim Burrows
Camera operators: rankinfilm
Video editor: Jack Sutcliffe
Hunger, Issue Two, 2012
"Scanning the walls as we wait for the film crew to set up, Forever screams in neon from the back wall of the main studio. Posters from their shows fill the walls and dead animals line the windowsills. . . ."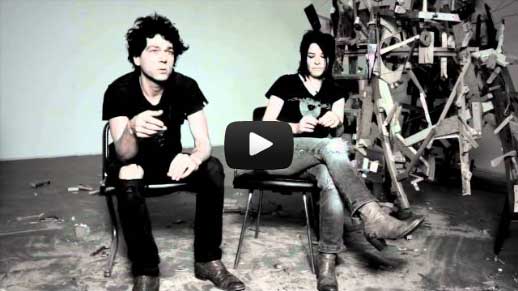 Bo Ningen + Tim Noble & Sue Webster – HAIR

CPH PIX Concert and film
Kunsthal Charlottenborg, Nyhavn 2, 1051 Copenhagen K, Denmark

Thursday 26 April, 21.00 (doors 20.30)
Admission: 150 kr.

A concert with the Japanese noise-band Bo Ningen accompanied by a visual art piece by Tim Noble & Sue Webster. HAIR was first created for the Venice Biennale in 2011. The artists will be present to produce the live visuals, which will bathe the band and the audience in a sea of hair. Even more noise can be experienced in Davide Pepe & Diamanda Galás's audiovisual work SCHREI 27 celebrating its European premiere this evening. The evening opens with a piano-solo by Eriko Makimura (Japan).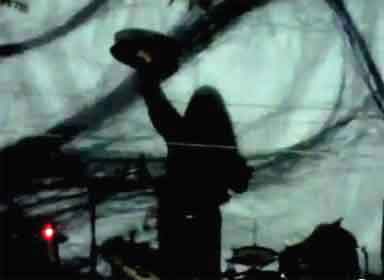 Still: from the 54th Venice Biennale, 1 June 2011.
Video of this performance by Bo Ningen with the projection HAIR can be viewed here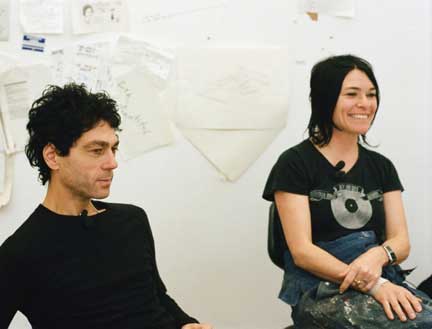 Freude von Freuden Interview
Video: Nicolai Niermann & Marcus Werner
Edit: Hendrik Thul
Music: Lower Dens – Rosie
"Tim Noble and Sue Webster have been constructing and assembling sculptures from unconventionally found objects into transformative art. As we snoop around the studio, you are greeted by a gigantic, bright and illuminating dollar sign in one corner, many tools and splintered wood that give us a real feel of their love for the discarded. They manage to create art with influences of punk rock and walking around the studio, you get a real sense of their characters as well as their talents…"








Garage Magazine

"Safety First." Garage (Spring–Summer 2012): 86–87

The condoms, featuring the work of Sue Webster & Tim Noble, Mat Collishaw and Keith Haring are available in every copy of the magazine, as well as in the bathrooms of Le Baron nightclubs throughout Fashion Week in New York, London, and Paris.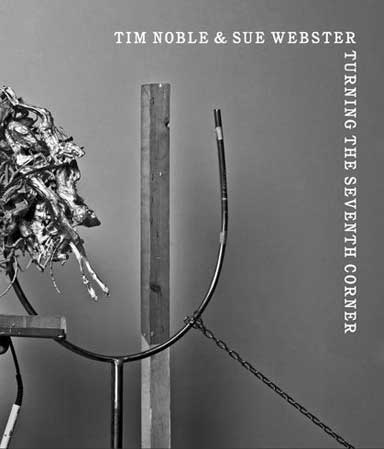 Turning the Seventh Corner
Tim Noble and Sue Webster
Texts by David Adjaye, James Putnam, and Louisa Elderton
Hardcover / 285mm x 245mm / 126 pages / illustrated in colour and b&w / £25 UK [Cornerhouse] [Amazon]
Blain|Southern has published Tim Noble & Sue Webster: Turning the Seventh Corner, which comprehensively documents the conception and realisation of the artists' recent exhibition and of how the installation's internal sculpture The Gamekeeper's Gibbet was created at Blain|Southern, Berlin.
A monumental, site-specific installation, Turning the Seventh Corner was created by Tim Noble and Sue Webster in collaboration with the architect David Adjaye. It was exhibited from April – July 2011, and is the artist's most ambitious project to date.
The publication includes intriguing images, photographs, drawings and diagrams, alongside a foreword written by David Adjaye which describes the working relationship between him and the artists (this is their third collaboration to date), an essay by the curator and former Egyptologist at The British Museum, James Putnam, and an interview conducted by Louisa Elderton between the three collaborators. The book will be available from the gallery and from our online bookshop from January.






East Wing X: Material Matters
The Courtauld Institute of Art
Somerset House
Strand
London WC2R 0RN
21 January 2012 – July 2013
In 2012 The Courtauld Insitute of Art celebrates 20 years of its biennial contemporary art exhibition, the East Wing Collection.
Material Matters celebrates our ever-growing access to the internationalism of contemporary art and the diversity of media being used in its creation. With artists from four continents exhibiting works ranging in material diversity from soap to stained glass, the Courtauld again demonstrates the value of the East Wing Collection in its continued expansion into new media and new audiences for cutting edge artistic developments.
This provides a unique opportunity for individuals across all years at the Courtauld with first-hand experience in organizing, running and maintaining an exhibition. The dialogue between highly established artists and students provides for a challenging yet dynamic atmosphere in which for East Wing X to operate.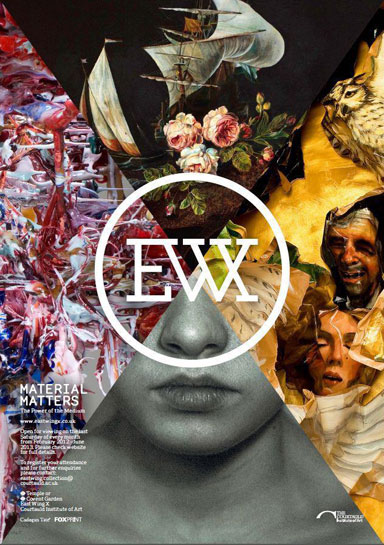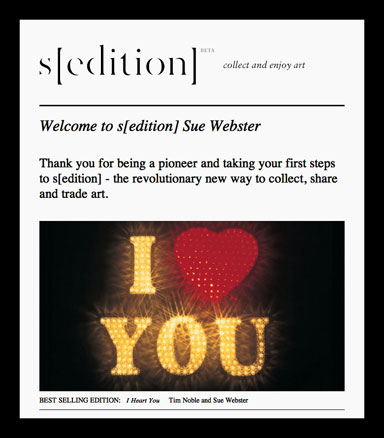 s[edition]
A revolutionary way to collect art by the world's leading contemporary artists in digital format
Forever and I (Heart) You are two of four limited edition digital artworks available from
Tim Noble & Sue Webster. Each edition has its own Certificate of Authenticity signed by the artists and s[edition]. The certificate is proof of ownership, and contains your name, date of purchase, title of the work and edition number.
You can view your art for personal use only, on any connected device you own or control. As a collector, you receive regular information directly from the artists, priority access to new editions, and also connect to other collectors.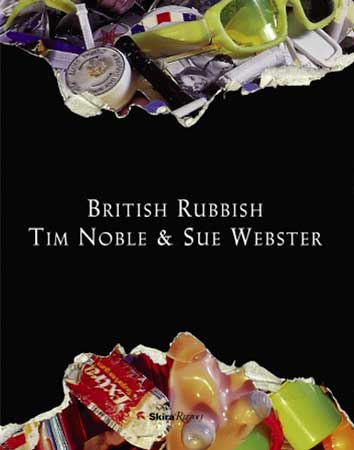 British Rubbish
Tim Noble and Sue Webster
Texts by Jeffrey Deitch, Michael Bracewell, and Nick Cave
Hardcover / 10.25" x 11.75" / 240 pages / 300 colour illustrations / $65 U.S. / £40 UK [Amazon]
Skira Rizzoli is proud to publish British Rubbish—the work of artists Tim Noble and Sue Webster. Since the mid-1990s, Noble and Webster have created a body of art that can be described as an ingeniously complex punk-rock take on modern consumer culture.
Noble and Webster make art that directly addresses the waste and aesthetic vulgarity of advanced consumerism and repositions the litter and gaudiness as a powerful visual allegory of human mortality, love and hope.
Extravagant, irreverent, and always sharply clever, British Rubbish is both a paean to and sly denunciation of conspicuous consumption.
About the Authors: Jeffrey Deitch is the director of MOCA Los Angeles and the former director of the renowned Deitch Projects in New York. Michael Bracewell is a writer based in England and New York. His most recent publications include The Complete Postcard Art of Gilbert & George, 1972–2010 and Bridget Riley, Paintings and Related Work for the National Gallery, London. Nick Cave is a musician, songwriter, and author best known for his 1980s-era band Nick Cave and the Bad Seeds.






British Rubbish Book Launch

New Museum
235 Bowery
New York, NY 10002

2 March 2012, 7:00–9:00 pm

The New Museum Store invites you to celebrate the publication of British Rubbish by Tim Noble & Sue Webster. Published by Skira Rizzoli.





Louis Vuitton Librairie
17–20 New Bond Street
London W1S 2RB

26 September 2011, 6:30–8:30 pm

A curated book shelf of Tim and Sue's publications and exhibition catalogues has been created for the Louis Vuitton Librairie for this occasion.